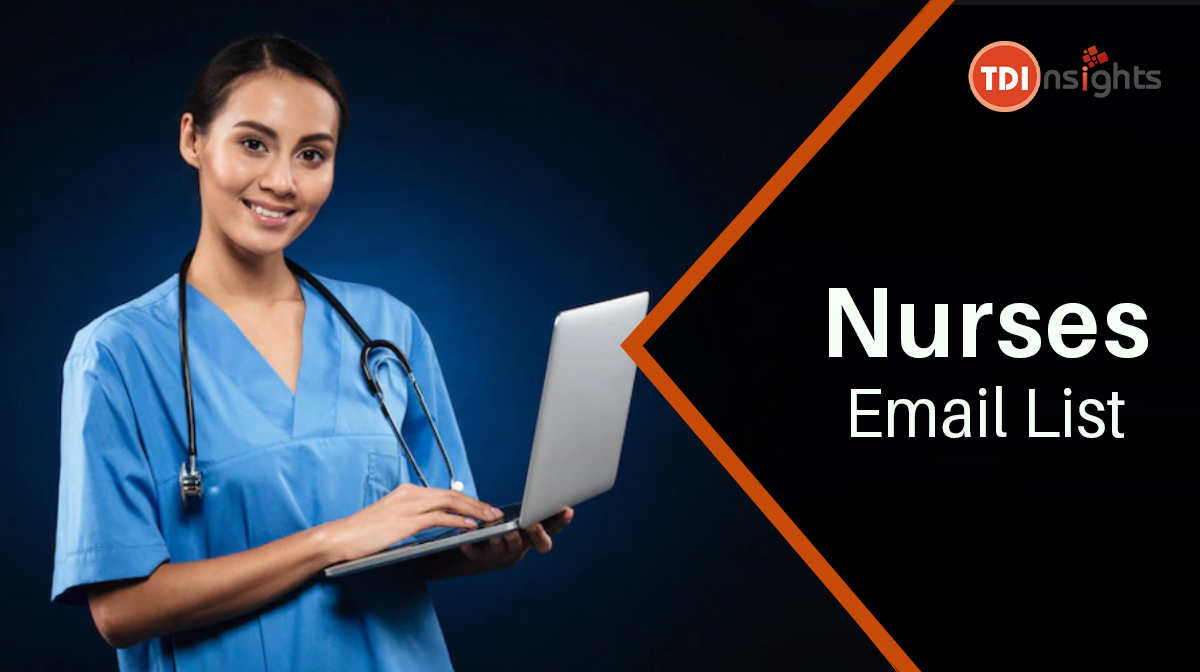 Reach your target prospects with our top-notch accurate & qualified Nurses Email List to amplify revenue.
Are you facing the challenge to connect with the right potential customer?
Worry not, we have a comprehensive mailing solution ready to resolve your challenge.
The validated and verified Nurses Mailing list from TDInsights is a combination of right mailing solutions in the healthcare industry that directs your marketing campaign on the right path. It helps to expand your B2B network and connect with the global prospects on an enormous level.
Nurse Mailing Lists is Categorized By Specialty:
| | |
| --- | --- |
| Licensed Vocational Nurses List | Registered Nurses Email List |
| Professional Nurses Email List | Nurse Practitioners Email List |
| Licensed Practical Nurses Email List | Clinical Nurse Specialist Email List |
| Certified Nurse Midwife Email List | CRNAs Email List |
| Certified Nursing Aide Email List | CRNAs Email List |
| Nurse Assistant Email List | Medical Surgical Nurses Email List |
| Critical Care Nurses Email List | Community Health Nurse |
| Public Health (PHNs) Nurse Email List | Cardiac Care Nurse |
| Military Nurse mailing list | Neurology |
| Nurse Anesthetists Email List | Allergy / Immunology |
| Transplant Nurse mailing list | Occupational Health |
| Orthopedic Nurse mailing list | Ambulatory Care Nurse |
| Adolescent Medicine Nurse mailing list | Reproductive Health Nurse |
| School Nurse mailing list | Oncology Nurse & more… |
Resolving The Business Challenge With Our Registered Nurses Mailing List
Do you want to reach the pinnacle of success and wondering how to achieve it?
We have the solution for you. Our market research experts and data scientists have built a perfect solution that channelizes your marketing effort into sales. By providing quality nurse leads, we intend to strengthen your marketing strategy at the grass-root level and facilitate achieving the business target with ease.
At TDInsights, we have the best Registered Nurses Mailing List that is completely error-free and has the latest data to connect with the top medical specialists and the right decision-maker of the industry. The healthcare industry is a growing industry that has accelerated with the growth of the global population. With the shortage of skilled nurses, it has become challenging to provide good healthcare service. Our Registered Nurses Database includes the accurate data of the skilled nurses across the world to whom you can connect via multi-channel marketing campaign.
How is the Registered Nurses Database segmented?
Our targeted nurses database is segmented by:
First name, middle name, last name
Years of experience
Contact number
Mailing address
Email address
Healthcare specialty
State
Unlock the potential of Nurses Email List
Why Choose Our Registered Nurses Email List Over Others?
The track record of our Registered Nurses Email List has been extraordinarily good. It has helped organizations to reach the prospects at the right time. It helps you to stay ahead of the competition with increased sales and revenue.
The features of the registered nurses email list are:
Better connections with the best prospects
Highly segmented data based on the geographical location, education qualification, job title, SIC code, etc.
Higher deliverability rate of emails, thus improving the chances of conversion
Facilitating to start the right business conversation at the convenient time.
The solution is available in both pre-built and customized formats so that you can choose as per your requirements.
The solution is updated every 3 months to add the new data.
Data is collected from relevant and authentic sources such as directories, healthcare association, conferences, etc.We append data collected from both primary and secondary research.
Meet our data experts to find the right business solution