Small Business Owners List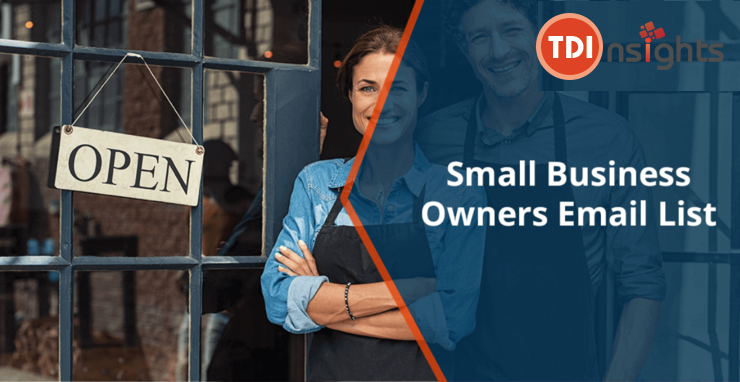 If you have products and services suitable for small and medium business owners, TDInsights can be your one-stop marketing data solutions partner providing you the small and medium business owners email list.
Constituting about 15 Million records of small businesses, their owners, and other small business professionals, we provide segmented and personalized data as per our client's marketing needs and business scenario. A validated and segmented data increases the chances of making significant profits to improve the revenue and ROI.
Our SME Email List contains below categories:
Associating with TDInsights for Small Business Mailing Lists
A professional marketing data solutions or services provider harnesses reliable sources to offer deliverables that can be assumed genuine. TDInsights is one such professional B2B marketing solutions provider that leverages reliable sources such as Corporate Events and Conferences, Newsletter Subscriptions, Business Listings, B2B Directories, Survey Channels, Top Online Portals and so on to deliver valuable Small Business Mailing Lists.
A large portion of the global B2B business expanse is covered by small and medium businesses. In fact, every year, about 90,000 small businesses start their trade. This statistic has a simple implication that if targeted well, small and medium businesses can result in big profits. TDInsights leaves no stone unturned in ensuring that you make big profits. We do this by providing you an accurate, authentic, and actionable small business mailing lists that has the capability to take you to your most significant prospect successfully located at any corner of the world.
What information does the list cover?
Below information is covered in our list:
Business owner's first & last name
Business name
Employee size
Email & mailing address
Phone number & more
Who can make use of these lists?
All the businesses which offer cost and time-saving products & services to small businesses can utilize these lists, including but not limited to:
Restaurants
Accounting services
Bookkeeping
Investment services
cleaners & more
Do you want to acquire ADP Payroll Customers List?
Cover the Entire World for Prospects
Data gathered from dependable sources might be of no help if they are not enriched appropriately. We, at TDInsights, employ several database management, data science, data mining, and data warehousing tools and technologies to enhance our data and make it not only accurate but also ready-to-use for our customers.
Another aspect that makes us exceptional is our global reach of prospects. As demographic boundaries must not limit business determinations, our small and medium business owners list covers North America, Europe, Asia-Pacific, Middle East, and Oceania.
Getting the Maximum Out of Our Mailing Lists
We have had discussed reasons galore as to why you must partner with a professional marketing data solutions provider like TDInsights. Using our business owner leads, you will be able to get the maximum out of your business since we will take care of client acquisition for you with our small and medium business owners email list. Get in touch with us today!
| | |
| --- | --- |
| First Name | City |
| Last Name | Zip Code |
| Title | Company |
| Mailing Address | Email |
| State/Country | Contact Number |
| Fax | Sales |
| Employee Size | SIC Code |
| Web Address | Company Revenue |
QuickBooks Customers by Industry
| | |
| --- | --- |
| Industry | Total Customers |
| Computer Software | 210,390 |
| Hospital & Health Care | 148,537 |
| Construction | 123,030 |
| Accounting | 96,572 |
| Nonprofit Organization Management | 89,463 |
| Retail | 89,237 |
| Civic & Social Organization | 78,799 |
| Real Estate | 73,392 |
| Information Technology and Services | 73,042 |
| Financial Services | 70,539 |
Meet our data experts to find the right business solution