7 Christmas Campaign Ideas for B2B Organization
CHRISTMAS – celebrated by 160+ countries across the globe, is one of the most crucial periods in the financial calendar for B2C companies. But what about B2B industries? Does it present an opportunity for B2B too? Well, yes, it does!
Christmas holiday hype is impossible to avoid in any segment. During Christmas, marketers fill our TV and mobile screens with offers and adverts.
As a result, U.S. households spent an average of $1,536 on the Christmas holidays in 2018 alone. And, it is expected to cross $1 trillion for the first time in 2019, according to the eMarketer report.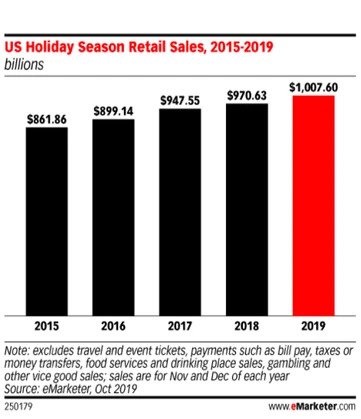 Image Source: eMarketer
What's even more exciting is that a few brands have been the subject of discussion because of its unique Christmas ad campaigns. They have utilized some record-breaking strategies to lure buyers into their brand.
If you're planning a Christmas email campaign or a stellar Facebook post for the Xmas season, read on further. We have curated the best ideas that can help your B2B organization stay ahead of the crowd regardless of your industry type.
1. Give a Bit of Festive Flair to Your Page
Christmas is right around the corner, and it's the perfect time to spread festive cheer through your website and social media profiles. So, why wait? Start by adjusting your brand logo and social media profile pictures so that it appeals to the audience. Use these images throughout the Christmas season, both online and printed media.
Add Christmas flair to your social media headers, which reflects the current promotional offers you are running. Surprise your website visitors by welcoming them with stunning festive graphics, accompanied by wishes such as "Merry Christmas."
You can also instantly put your visitors in Christmas mood by switching to a holiday-themed graphic for your webpage.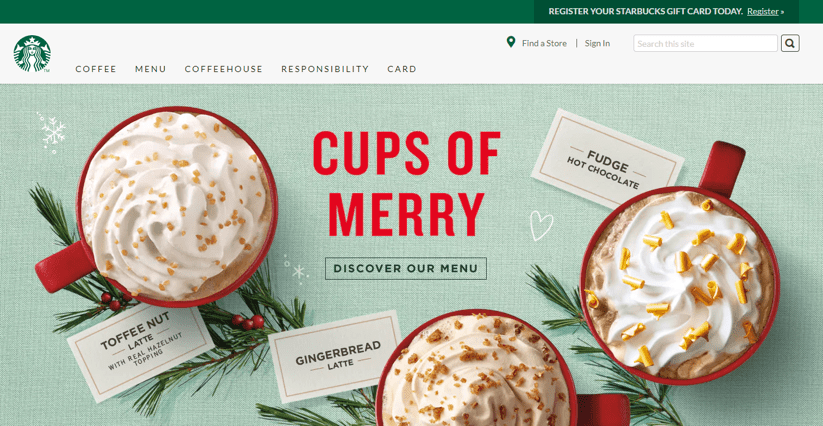 Image Source: Starbucks
Consider the above design by Starbucks. Their page makes us smell the Christmas through the air. A clear, simple, and compelling headline has always been their way of smart marketing.
2. Share Christmas Themed Blog/Social Media Posts
Be it a blog or social media content, come up with the unique posts that serve your customer's needs, and also reflect your effort behind it.
For instance, restaurants can share their top-favorite holiday recipe, fitness centers can share some tips on staying fit during holidays, and online retailers can create a hyper-targeted blog helping to decide what to buy for friends and family on this Christmas.
So, no matter what business you are in, bring some seasonal appeal to your content.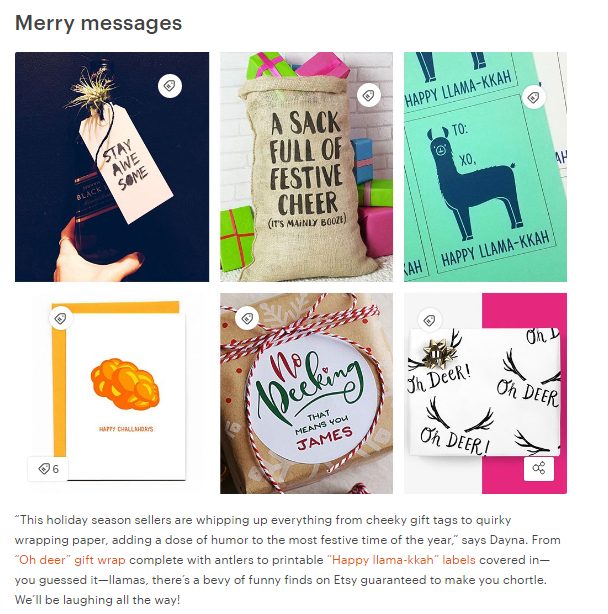 Image Source: Etsy
Etsy, a popular e-commerce website focused on handmade items and craft supplies, compiled top trending gift ideas for the holiday scene in the form of a thoughtful blog. Here, the company has promoted various in-house products that could be of great help to the readers who are confused about what to buy.
3. Never Forget to Reward your Loyal Followers
Your followers on social media are your best brand ambassadors. So, why not thank them for this Christmas by offering some exclusive deals?
Online stores can share digital coupons on social media platforms or create a landing page with unique offers, and then promote it exclusively on social media. If you own a brick-and-mortar business, offer print-at-home Christmas coupons that can be promoted on social media.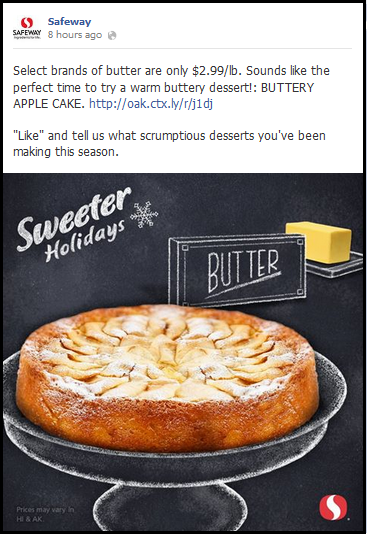 Image Source: Safeway
Safeway has come up with a similar concept. However, along with the offers on their product, they have also tapped into the personal side of their business by sharing a link to their favorite recipe.
4. Style Your Email Campaigns on Christmas
Plan a Christmas themed email marketing campaign to highlight your products, offers, or to share specific information relevant to the season. Email offers a most personalized online space, and using it to reach the audience will get the best response than social media.
Email statistics report by THE RADICATI GROUP reveals that chances of reaching an audience are 5 times higher with email than any social media channel. So, why not use this platform for your best this holiday season?
Apart from speaking about offers, use emails to send a personalized holiday message that looks like a letter to a friend because no one likes to be a part of some vast mailing list.
Kim Garst from BOOM SOCIAL, crafted a beautiful message addressing their customers. Take a look at it.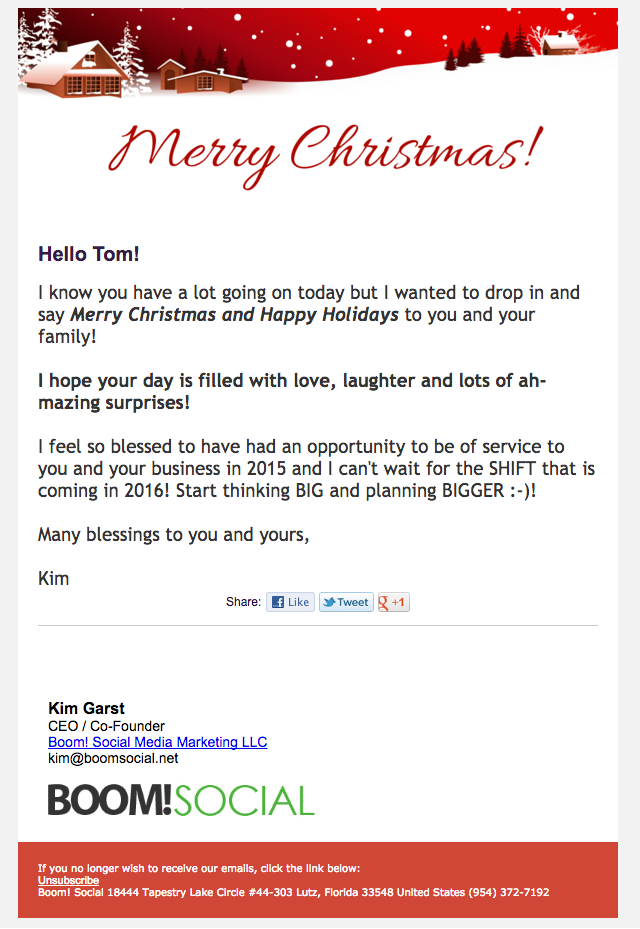 Image Source: BOOM SOCIAL
5. Spend Some Money on Christmas Themed Contest
Christmas themed contest offers a great way to gain attention during the competitive business atmosphere of the holidays.  Most of the contests require the audience to do more than merely spending a certain amount on your product.
It could be submitting photos of themselves with a colorful Christmas wear, or any video of them singing Christmas carols with the friends. Make sure your contest involves as many people as possible. You can come up with the prize for both the best and worst vocalist only to inject a moment of joy among customers.
This idea is more about generating publicity, so post about it on social media channels as well.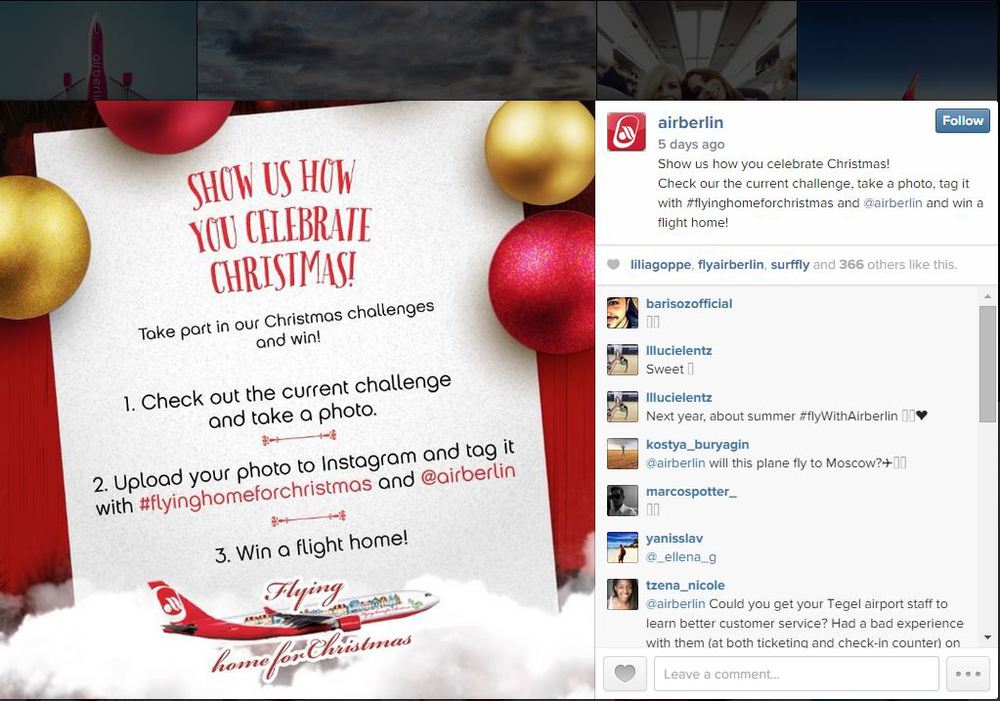 Image Source: Air Berlin
On Instagram, Air Berlin asked followers to post their photos of Christmas celebration by tagging it with #flyinghomeforchristmas and handle @airberlin. The company offered entrants an opportunity to win a flight home in exchange for posting their photos.
6. Create a Sense of Urgency in your Ads
Most successful eCommerce businesses agree that their customers tend to buy products when they are faced with the element of scarcity, such as cutoff dates or real-time stock counters. And, I say, Christmas is the ideal time to incorporate such features in your ads.
It could be informing your followers via social media about the number of units left or a special time-limited offer (free shipping/discounts) for specific products.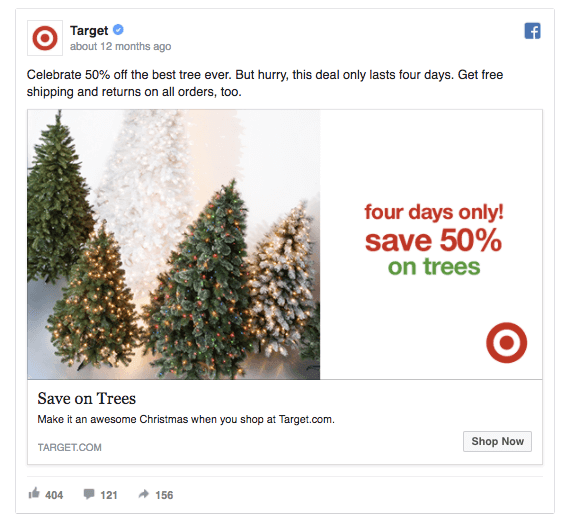 Image Source: Target
Target's FOMO ad is right on point. Target not only offers an essential item for Christmas celebration (i.e., Christmas tree) but gives it away with a 50% off for a limited time. This offer gets even better as the company offers free shipping as well as returns along with it.
7. Initiate a Charity Drive for Brand Awareness
Last but not least – Host a local charity drive during the Christmas holidays. We all know that Christmas is a time of giving. As a business, you give some special offers and other incentives to your customers. But how about your local community, who are not your customers?
Partake or host some social initiatives which benefit charities or causes. Identify different ways in which you could help them. For instance, you could donate a percentage of your profit or host a food or a clothing drive.
It's not necessary to create a large-scale charity department within your firm. Even something simple like offering 10% of your sales to some charity drives can quickly establish an extra incentive for people to buy.
Besides, you can also encourage your customers to be involved. Always make sure that this opportunity is only to help the people and not to brag about your brand.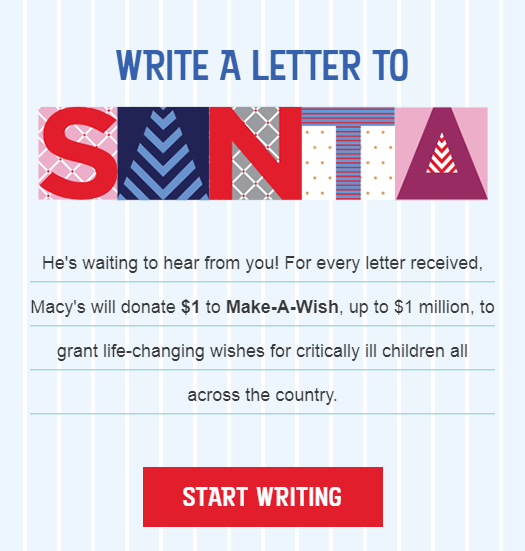 Image Source: Macy's
A similar idea has been adopted by Macy's for its "believe" campaign. Here, the campaign revolves around a site where people can write a letter to Santa with Christmas wishes. For every letter posted, the company donates $1 to the 'Make-a-Wish' foundation.
And there we are!
These are quite a few things you need to do to get some good sales during the most wonderful time of the year. So, it doesn't matter if you operate as a B2B, eCommerce, or a non-profit organization, Christmas gives a lot of creative options for communicating with your customers.
Don't waste your time further. Plan your campaign now, and enjoy some good old family time during the Christmas holidays.
Merry Christmas to All Our Readers!!