Companies today have become largely data-driven. Thanks to Big Data and other emerging technologies like Machine Learning, AI, and Analytics. To enhance your sales output, you need the company data which actually is already there, and in fact is there in a vast quantity. All you need is the right information at the right time. This gives way to the concept of Data Enrichment
With a successful data enrichment process at your disposal, you can achieve the following for your business:
Lower the constraints of conversions through web forms
Segmentation based on hyper-targeting
Path-breaking transformations in account scoring
Amelioration of cross-selling and up-selling
Early prediction and prevention of churn
With some initial efforts, your CRM data enrichment process will be up and running. And that is when you will reap the benefits of robust, real-time company information instantly updated into you CRM system. But first, let us try to understand what data enrichment process actually is, how it works, and what are its benefits?
Introducing CRM Data Enrichment
Today, we can have information about almost every company in the world. But the more information we get, the more we realize the importance of quality over quantity. Boosting sales performance requires accurate data from which reliable insights about a company can be drawn. Your sales team not only requires ease of access to the most appropriate data for them but also the data in question to be precise and updated. Data Enrichment achieves both of these and more…
Data Enrichment engulfs all the tools and processes to refine and enhance the raw data into actionable chunks that can be used directly by salespeople. In essence, this data is a rich profile of all the potential and existing customers for an organization's sales team. CRM data enrichment appends the missing data into your customer database using sales intelligence and data enrichment tools working in parallel.
Do You Really Need CRM Data Enrichment?
Changes are inevitable in the CRM accounts. A company might change its location or implement a new technology altogether. It would be a sheer disaster if these sets of information are not updated in your database, especially over a longer period of time. Manual effort to achieve timely updating will require spending huge amount of time and resources.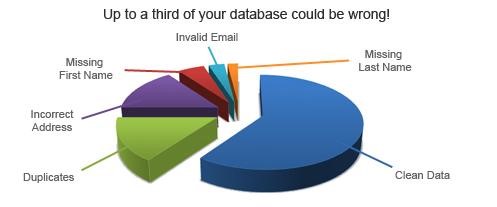 Source: DataFloq
CRM enrichment tools and processes enable any change of information to be added to the correct account in the CRM system. With time, there will be a large number of data points being fed to the system, thus, making a formidable profile of every contact in the CRM.
You know you need a CRM Data Enrichment process if you want to:
Boost your lead scoring
Find the right points with respect to customer interaction
Enhance account scoring models
Improve the overall customer experience
How CRM Data Enrichment Works?
The working principle of CRM Data Enrichment can be divided into three parts: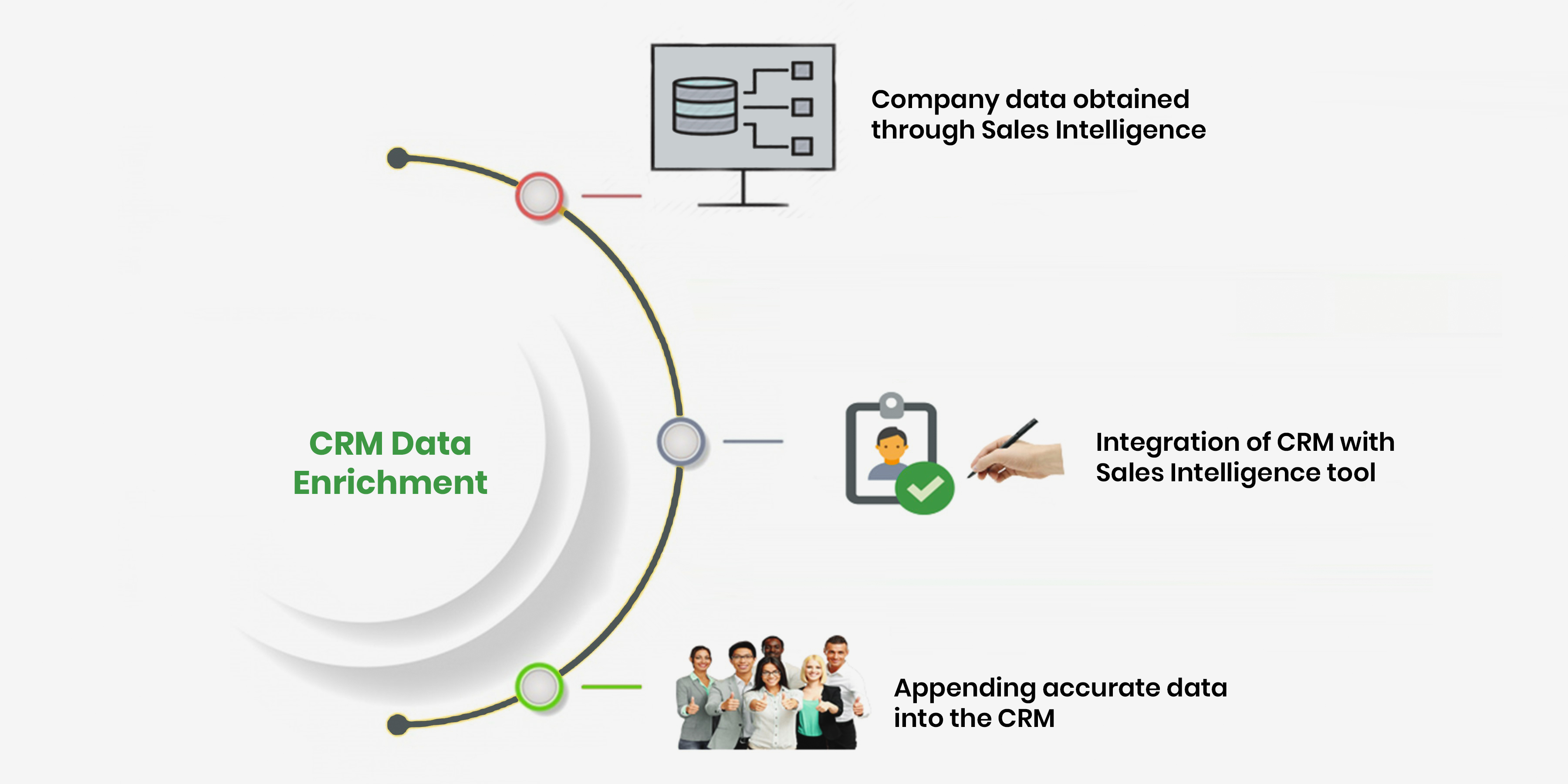 First, a plentiful pool of company data is attained through sales intelligence tools that pull out data form millions of reliable online sources in real-time.
Second, the integration of your CRM with the aforementioned sales intelligence tool. Whether this is done directly or using an app connector, the effort required necessitates expert advice and help.
Third, the appending of the missing or changed contacts in your CRM via the sales intelligence tool, thus transforming your CRM into a reservoir of reliable and accurate real-time data.
Benefits of CRM Data Enrichment for Your Business
1. Enhanced customer experience
An enriched CRM data is accurate based on the insights drawn from your database. This translates into tailoring your sales script according to the relevance of a prospective customer's needs. In turn, there is an increase in up-selling and cross-selling along with detecting the red flags susceptible in churning. Real-time CRM data enrichment ensures up-to-date information and any relevant changes in the customer's business noted down appropriately. Armed with all these information, your customer success team can reach out easily to the customers allowing them to get the most out of your products and services.
2. Lesser web form fields
Potential leads can often turn away if your forms are unnecessarily long and tedious, whereas with less information on the forms, buying cycle prolongs. Utilizing the sales intelligence technology, missing data is filled up for every account in the customers' database. Ultimately, the lesser number of "must-have" fields are there in the forms and other fields are taken care of by the data enrichment making the whole process hassle-free for the customers and the sales team.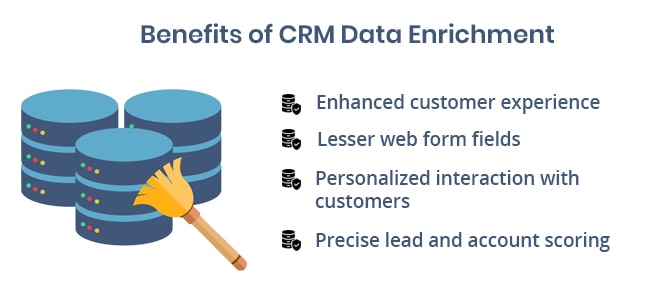 3. Personalized interaction with customers
The days of salutation with the customer's first name are long gone now. Today, your success is determined by how well you are equipped with your prospect's recent activities, interests, technology information, and the knowledge about the firms they are a part of. CRM data enrichment allows you to have a detailed view of your targeted audience. Based on that you can divide them into segments and have a more personalized interaction. You are, therefore, capable of providing the right customer service to the right audience with an all-inclusive knowledge about all your customers.
4. Precise lead and account scoring
Earlier, account and lead scoring techniques were manual. Needless to say, they caused more trouble and the value achieved out of them ultimately could not outnumber the resources and efforts spent. Data enrichment has removed this overhead by automatic prioritizing of prospects into categories based on real-time enriched data.
CRM Data Enrichment is Never-Ending!
A one-time data enrichment solution is a frozen snapshot of companies. In this age of big data, data goes bad at great speeds. Revenues rise and fall, product portfolios can alter, physical addresses change, and even company name can change if it is acquired or merged. In the possibility of all these changes, CRM data ensures all the changes are recorded and the database is up-to-date.