Lead generation is a challenging task. And post-pandemic, it has become an increasingly daunting process, where marketers face the double whammy of meagre number and quality leads.
The below statistics says it all: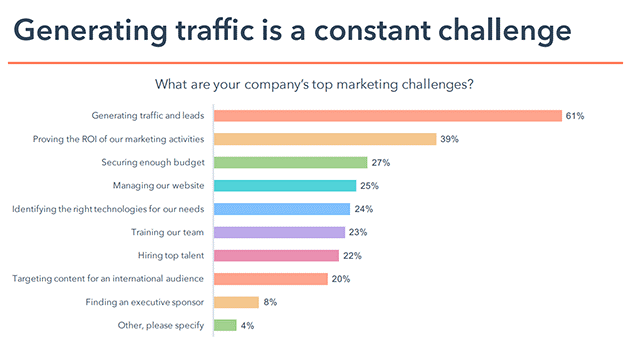 Image Source: funneloverload.com
Almost 61% of the respondents stated generating traffic and leads is one of the top marketing challenges in an organization.
In such a scenario, marketers are looking for innovative techniques to shoot the leads by improving brand awareness.
As a marketer, you could relate to this quote by Doug Kessler, founder of Velocity Partner:
The sales team owns the sales funnel, but as a B2B marketer, you feed the top of their funnel
Sales team interacts directly with customers, so you need to help them with the quality leads fuelling their interaction process on the right path. Most importantly, you have to guide them to leads that are convertible at the right time. Thus, it would save your and sales team time, resulting in the overall benefit of the organization.
Find the pictorial representation:
Image Source: funnelprofit.com
Here, you can see how both the marketing funnel and sales funnel are necessary to grow brand. Marketers aim to capture maximum possible quality leads through different tactics and then push them down the funnel. Once it passes all the required stages, the lead is passed onto the sales team, who then feed it into their funnel. Here representatives, have regular communication with prospects and motivate them to acquire the product or service.
1. Cold Email:
Just like cold calling, shooting out cold emails could help gain the customer's attention.
But many customers don't know to use it the right way!!!
First, let's understand what cold email is?
Cold email is the initial step to connect with new customers across different industries. It is like pulling the customer's attention who are completely unaware of your service.
Find the below example of a cold email:
Image Source: qphs.fs.quoracdn.net
This example shows how a B2B company can approach their customer with a cold email. It has a curious subject line, personalizing the content for the brand, offering a value proposition, and a simple CTA that the recipient has to follow. The "5 min video'' just nails the process.
The benefit of sending a cold email is that you can outreach a good number of prospects, and can use the right automation tools to streamline your effort. All of these can be executed at a low cost.
2. Social Media:
This channel is gaining much popularity with the availability of a huge number of customers on this platform.
Most of the B2B customers are indirectly promoting their services, like showcasing the benefits through quality content, using catchy phrases, etc. on social media.  The trick here is you need to be completely active on this channel. The more active you're, customers would respond to your post.
The benefits of social media are it boosts brand awareness among different customers, whether it is of different industries or countries.
Find the below example:
Image Source: komarketing.com
This is one of the creative posts on social media channels by Salesforce.
3. An Outbound Script to Make the Call:
Have you ever thought of a script to make the calls?
Yes, it is necessary to have a script for calling a client. This process is called as cold calling or making the customers aware of your service via the telephonic method.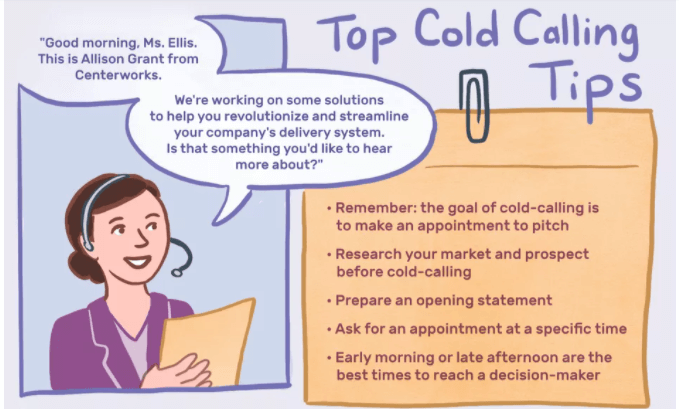 Image Source: thebalancesmb.com
The method involves tele-calling your prospects. Ensure that you're speaking to the right decision-maker; speaking to the gatekeepers wouldn't deliver the right results. And most importantly, you need to execute appropriate research about your customers; the more information you have about them, it would be easy to convert the call at the right time.
Are there any disadvantages in executing this outbound call strategy?
Well, you need to have the right planning to integrate this process. Prepare your representatives, with different methods, such as letting them interact directly with the customer, such as on a weekly or daily basis. Not to the real customers, obviously!!!
They could be either the co-worker or other people.
Execute precise research and have a large team of representatives who can promote the product to customers.
4. Conducting World-Class Events:
It's a fact- B2B events are one of the greatest techniques to connect with a wide group of customers.
Before the pandemic hit the world, this idea was a craze among large enterprises and SMBs alike. By conducting regular events, they could pull a large number of leads. But the onslaught of the virus took a toll on this process for a while.
Now, as the economy opens up, organizations want to get back on this track.
But still, many of them are opting for virtual events to avoid any physical contact and promoting their service on a broader level.
What is a virtual event?
A virtual event is an event type where the entire physical setup is developed online. People could discuss relevant subjects and have a broader view of a specific product. In short, it gives you a platform to improve brand awareness via online method.
Find the below statistical representation: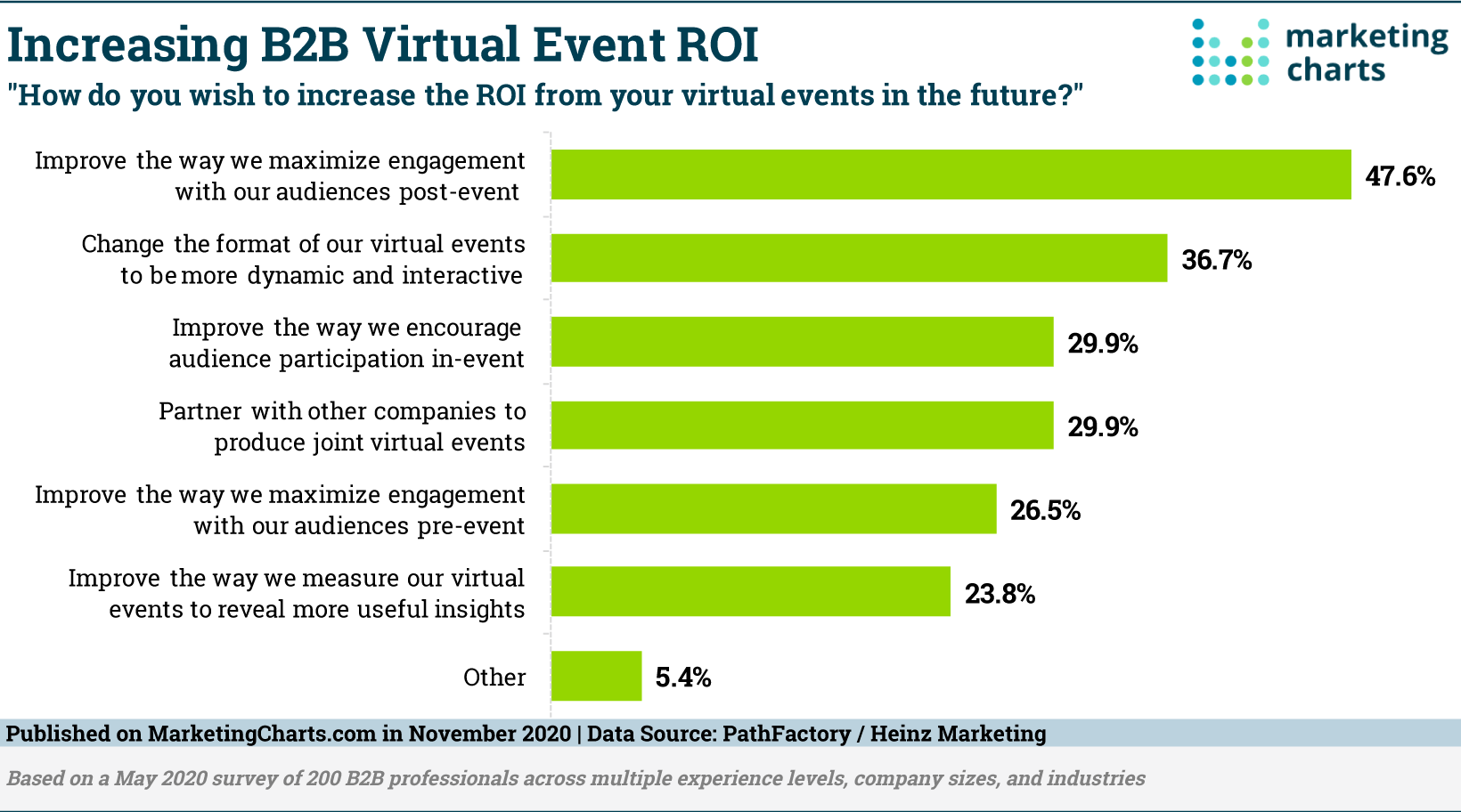 Image Source: marketingcharts.com
Here you can see almost 47.6% of the respondents stated that they aim to increase the ROI by maximizing audience engagement after the virtual event. Also, 36.7% of respondents stated they aim to change the format for making it an interactive process. This shows that virtual event is here to stay in the coming years for increasing leads number.
There are huge benefits to conducting a virtual event. For example, it would save the cost of organizing it at a physical location; you can immediately capture the data of the new lead, you could reach global customers easily that otherwise couldn't have attended in a physical event.
5. Direct Mail:
Direct mail is considered as one of the useful tactics for connecting with customers at the right time.
But, do you know it can be effectively used as a lead generation strategy?
In recent times, an increasing number of marketers are using direct mail to shoot the number of leads. Remember, it is always not necessary to send direct mail to existing customers, you can send the mail to prospects who have higher chances of conversion. This channel promotes your product to a greater audience precisely. Showcase the USP and the latest features that have been added to your product.
The Millennial and Gen-Z, would find it odd, as they're not accustomed to checking the mail at the postal address. But direct mail is as important as other channels, in some cases, more important. It's very rare for customers to ignore your mail; they're bound to see your message, when they open the mailbox. While in the case of other channels, there are chances customers could overlook your message.
How much does a direct mail cost?
A direct mail could cost you between 30 cents and $10 dollars for each recipient.
Conclusion:
An outbound lead generation strategy requires perfect planning so that it instantly hits the right chord with the customer. Marketers should sit down and analyze which lead generation strategy could generate the best business results for their brand.
The points explained in this blog, could help you include the best outbound lead generation strategy in your campaign.