Thanksgiving is all about celebrating and enjoying the rich harvest.
With rapid industrialization and commercialization, we forget there are basic things in life that could make us happy such as a good meal with our close-knit family circle. Thanksgiving Day guides us to find peace and solace in this right zone.
Businesses find this season a mixed bag, while the customers are willing to purchase, but they have a whole set of options in the market. In addition to that, it becomes difficult to reach out to them through any channel as they are busy having a good time with their families and friends.
So, what should a marketer do?
They should leverage their Thanksgiving email marketing strategy. And this can happen if they completely understand their customer. They need to design the best emails to attract the prospect's attention.
Find out the same:
1. Motivating customer to make the place comfy for friends:
People need a nice area to sit together with their friends and families. When analyzing the human equation, it is found that the more you spend time talking to your trusted family members or friends, the more you feel relaxed.
In this example, Living Spaces, the furniture store based out of California, motivates the customer to explore the comfy furniture to chill out the best way. It is stating to make the hang around place comfortable with the right ambiance.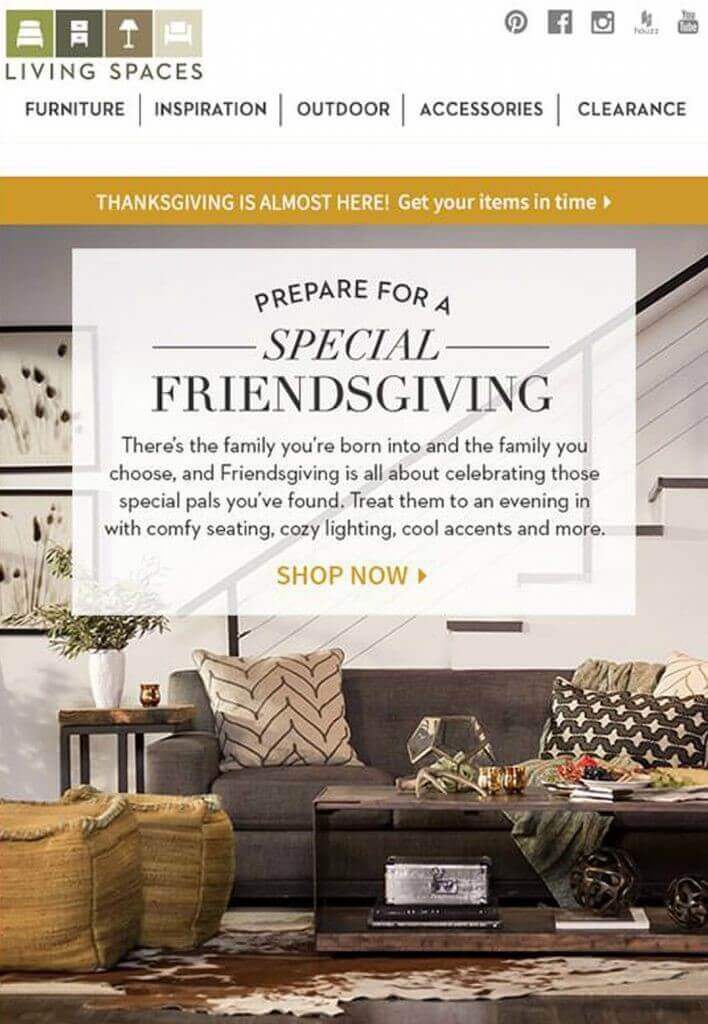 Source: campaignmonitor.com
2. Attractive Visuals: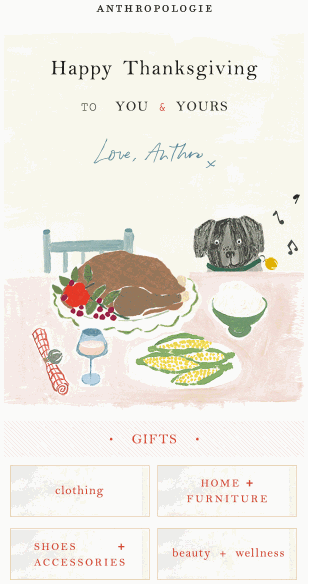 Source: sendpulse.com
Visuals add a fun element to the email.  In this interesting image, one could see the good food on the table with the dog peeping to have a look. Recipients would surely be enticed by the unique elements added in the email.
3. Proving Grateful: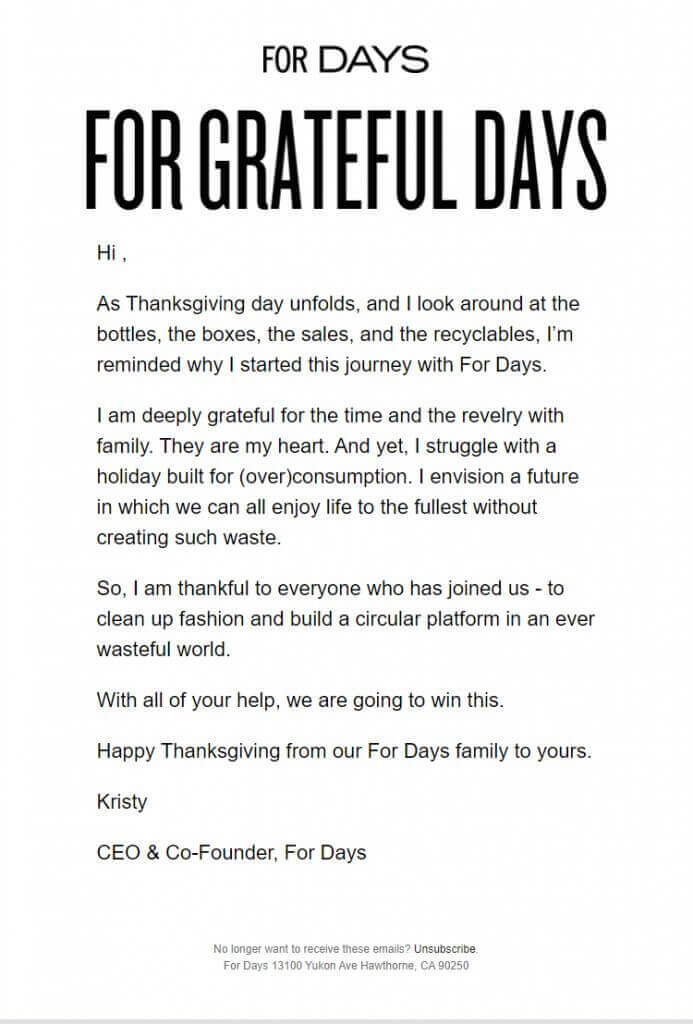 Source: uplers.com
This example shows how you could use the power of email marketing strategy to send grateful emails to the recipients. The Message from CEO For Days has been rightly included in this Thanksgiving email.
Customers just love authenticity and this email would make a good impression in the prospect's mind.
4. A Yummy Sleep-Aligning with the Brand Service:
When you think about Thanksgiving, the first thing that comes to mind is a hearty meal including turkey, fruits and other goodies. But Casper, a brand known for selling sleep products, has aligned food and sleep together in their email design to promote their product.
A really unique idea!!!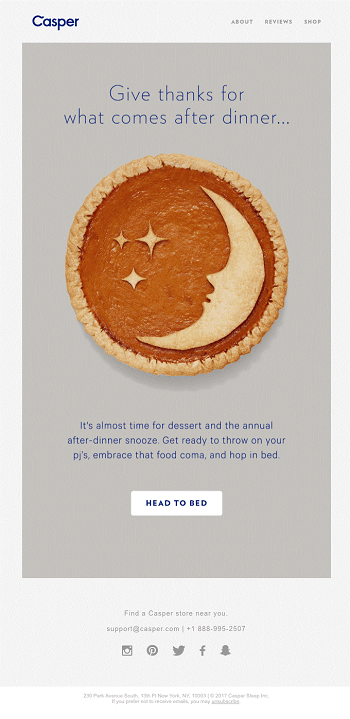 Source: campaignmonitor.com
In this example, the brand has successfully utilized the Thanksgiving theme- the food culture. A good sleep after a heavy dinner, don't you want?
This is what the brand tries to convey through its email campaign. "Give thanks for what comes after dinner," is a smart line to grab the attention of the reader.
5. Post-holiday Plan:
Marketers should look into planning a strategy, offering gifts, incentives even after the holidays.
This is an important tactic that every marketer should follow. In a bid to increase sales, most of them just forget that customers do exist after the holiday season. So, every marketer should make their customers feel that they are just not bothered about their sales but also to maintain a healthy relationship with them.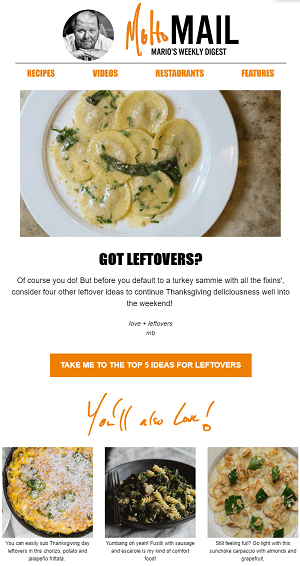 Source: sendpulse.com
Got leftovers?
This is a nice question by the content marketer and it could resonate well with the restaurant owners as, after any big party or event, there would be too much leftover food.
So, do you want to waste it?
No, many managers would look into innovative ways to finish it off at the earliest.
In this example, you could see five interesting recipes that these people could try even after the Thanksgiving holiday is over.
6. Savings during Thanksgiving:

Customers want great savings, during the holiday season. The example shows how marketers can design attractive emails by including the discounts, offers in the email. 25% off is just one of the irresistible options for customers.
7. Enlarging your Heart:
Thanksgiving means having compassion and joining others to celebrate the grand Thanksgiving Day.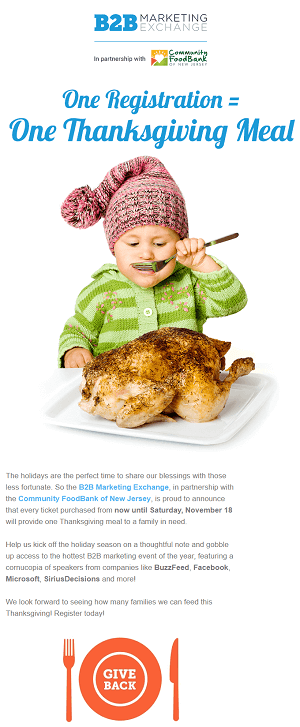 Source: sendpulse.com
Give back means contributing to society, just as you see in this email example. The child enjoying the turkey is one of the best representations of giving back to society- the less fortunate ones.
8. Look into your Loyal Customers:
Don't you think, you should thank your loyal customers?
As they are the ones who helped you afloat during these tough times.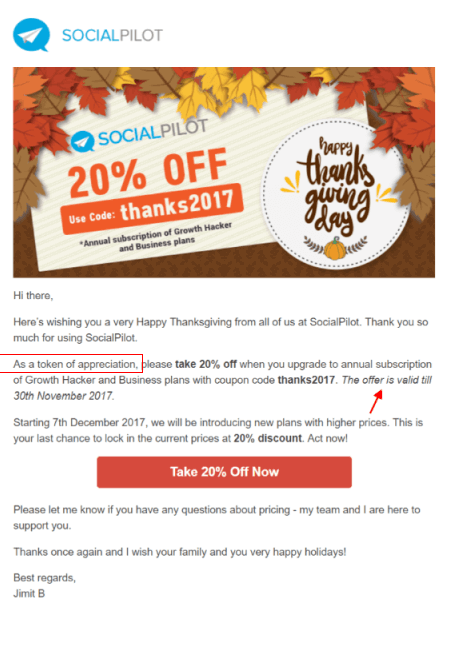 Source: chamaileon.io
This is one of the best examples of making loyal customers feel special. The highlighted line," as a token of appreciation," shows the brand values their customers and has therefore offered a 20% off on the up-gradation to the annual subscription.
When you include your customer as a part of the family, they would also be loyal to your service and never shrug off your brand for another option.
9. Culminating the Black Friday mood in Thanksgiving:
As Black Friday would soon follow Thanksgiving Day, it's better to include the Black Friday message in the Thanksgiving email.

Source: mailjet.com
Ann Taylor, the American retail chain store, shows how it can be best done in this example. While for Thanksgiving, they mentioned eat, drink, and shop, in the immediate next line, they added "A Thanksgiving Treat." In the same, you can see the message "open early on Black Friday."
10. Thanking Small Things in Life: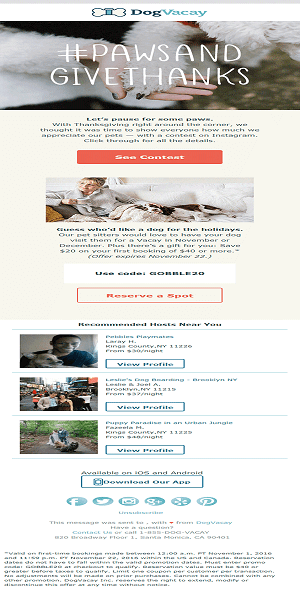 Source: business2community.com
How about thanking your pets, especially dogs?
Dogs are man's best friend. Now you can use this fact in your email marketing.
Dogvacay, designed emails where they mentioned #PAWSANDGIVETHANKS.
These gifted mammals offer unconditional love to their masters. So, on Thanksgiving Day you should set apart a special strategy to design a wonderful email, thanking these pet dogs all over the world.
11. Crafting the Best Subject Line for Email Strategy:
The contours to the best email content also lie on the subject line. If the subject line makes the right connection with the recipient, you can be assured of your campaign going in the right direction as a marketer.
Some of the best subject lines could be:
Thanksgiving just 1 week away
Happy Thanksgiving to both families-yours and mine
This is the right time to say thanks
A special treat only for you
12. A Short and Hitting Message:
Recipients don't have the patience to read big emails. And when they are in the holiday mood, they would just close the email if the content is not short and precise.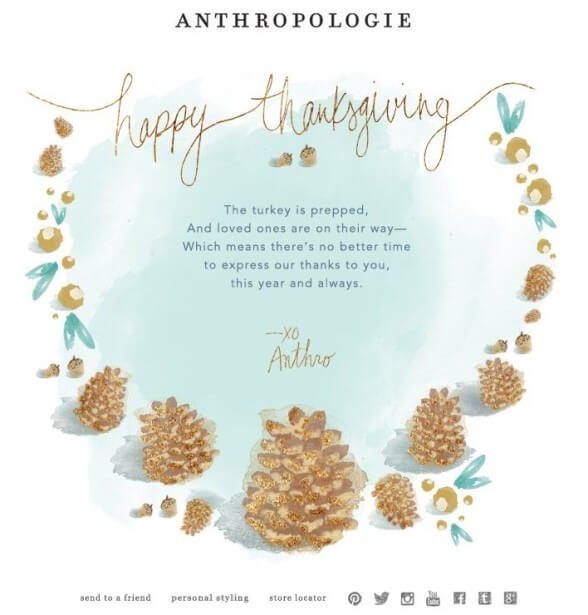 This is one of the fine examples of a short and sweet email with all the traditional elements to align with the Thanksgiving theme. The message," loved ones are on the way," gives the positive vibes of happy days ahead.
13. Motivating Readers to Have a List of Activities:
We all plan and strategize every activity in professional life. We can do the same in personal life as well.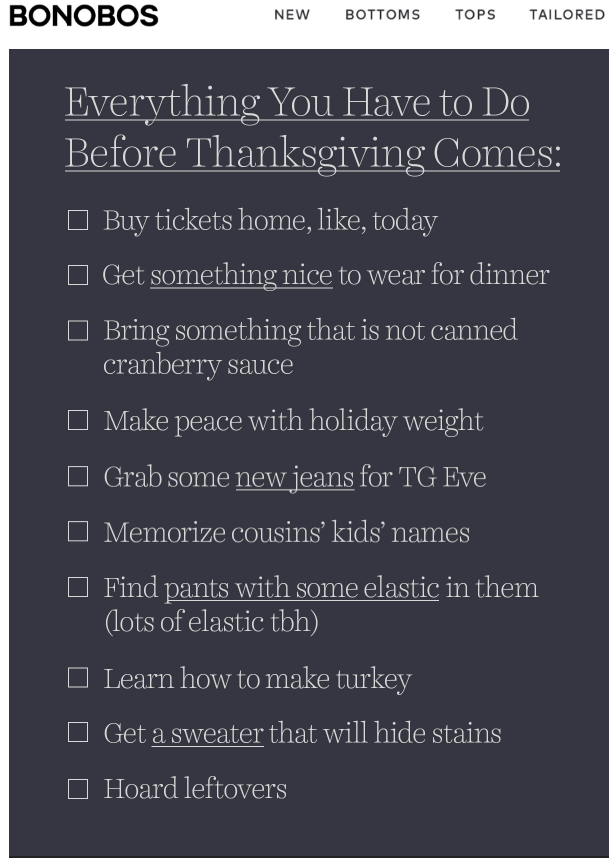 Source: sendpulse.com
In this example, the brand is motivating the reader to make their list of activities or goals that they want to accomplish this Thanksgiving. Make them feel as you care about their schedule; this idea would get them going and enjoy the festival to the fullest.
"Memorize cousin's kid's name," this is just a sweet reminder that could bowl over your recipient. Another line, "make peace with holiday weight," is a reminder that you might gain weight after the holiday season but it's not a thing to worry about, you can still lose it with your sheer determination.
14. Off in Delivery Fee:
While discounts are common, and fewer charges on delivery fee could excite the customer.

Source: reallygoodemails.com
In this example, $5 off in the delivery fee in the next five orders is something customers can't afford to ignore.
The bold message" discount automatically applies at checkout," is the bright line in this Thanksgiving email.
The message aims to win the trust of their customer. Everybody likes an extra topping on their pizza, so when you offer a delivery fee off to your customer, they would obviously be delighted.
15. Thanking Everyone:
Should you only thank your customers?
Well, as an organization, you need to thank your employees, suppliers, collaborators, and others who helped in your successful journey. As known, we can make anything possible if all work as a team. So, never forget to say a collective thanks to everyone.

Source: maildesigner365.com
Here Sakara, an organization based out of New York, USA, and offers organic ready-to-eat meals, shows how one can develop the email stating thanks to its employees, farmers, chefs. This is really a heart-warming gesture and shows the human side of the brand.
Conclusion:
We all should be thankful to the almighty for giving us the necessities of life.
This Thanksgiving Day, as a marketer, you should find innovative ways to thank your customers, employees, and all who made it possible to keep your process going.
The blog has some of the best tactics that could help you out in this mission. You can integrate the same in your campaign and reap the right results.