Are you an email marketer looking for new ways to engage your audience? Lately, email campaigns have emerged as an effective marketing tool that generates high ROI, which according to research, goes as high as 3600% of the investment . But you cannot send just any email to achieve high returns. You need a strong strategy and unique approach in your email copies to hit the right chord with your audience.
We understand that this is not an easy task, so we are here to help you with a list of the best email marketing campaigns that are unique and convey the message in a creative way. Let's find out what is the purpose of an email marketing campaign before you jump in to gather ideas for your next campaign right away.
Email marketing campaign- What Does It Mean?
An email marketing campaign is an excellent way to enhance lead generation and boost conversions to increase your sales numbers. It is a compilation of emails that include brand promotions, new updates about your services, any changes in your organization, and more – and are sent at regular intervals to stay connected with your customers.
These emails intend to persuade or encourage the receiver to perform a certain task which may include checking out from an e-commerce site by completing payment, signing up for a service, booking a call to connect with a business, and so on. As such, marketing emails must have a clear CTA to make the reader understand what they must do next.
The best email marketing campaigns help you build a strong brand community by increasing organic traffic for your website and letting you build strong connections with your prospects and customers alike. Email campaigns can be immensely effective when you have a massive email list of people genuinely interested in your products or services.
Moreover, you can use email automation marketing emails such as newsletters, welcome emails, promotional emails, etc., on a large scale. However, ensure that the recipients have opted-in to receive those emails and make it worthwhile by offering valuable information to them.
15 Best Email Marketing Campaign Examples
Now you know what email marketing is and how it helps to improve sales and conversion rates. So, here are some examples of the best email marketing campaigns to inspire you and help you strategize your next campaign effectively.
1. Netflix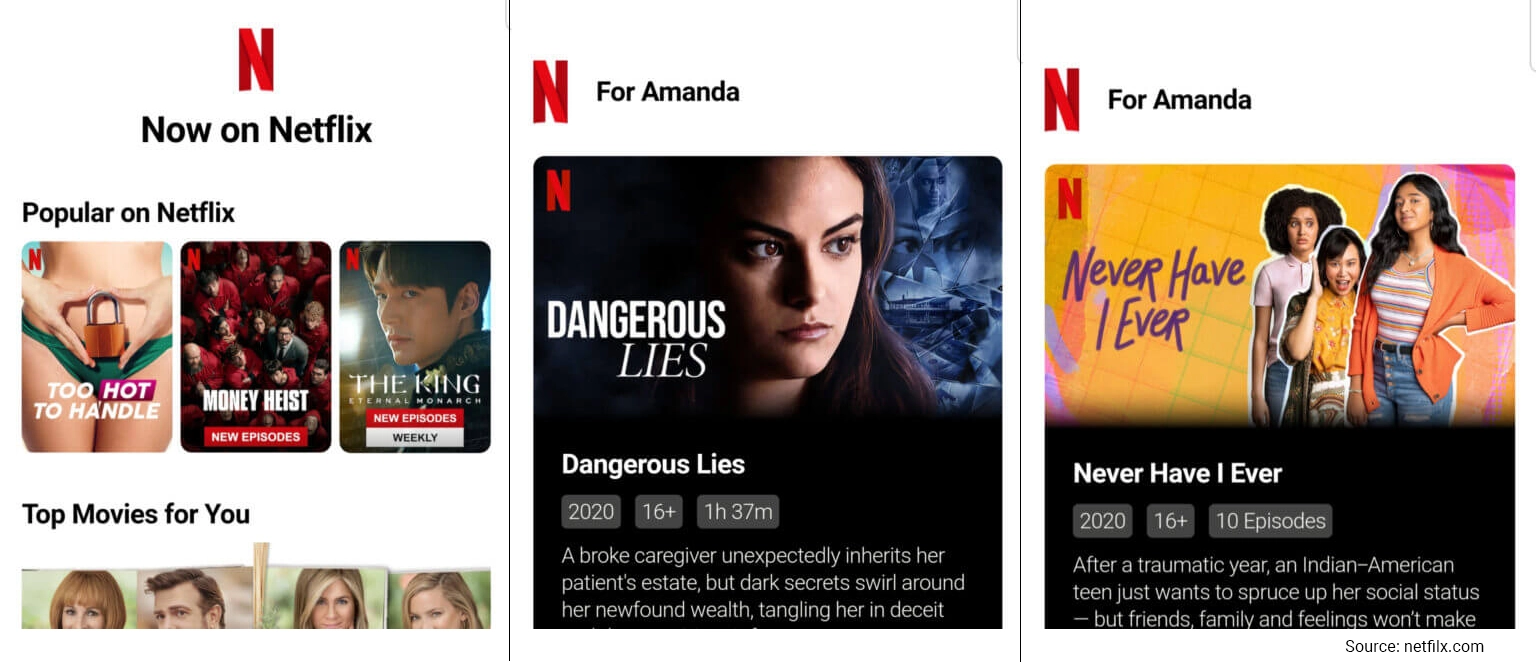 78% of all U.S. households subscribe to at least one or more online streaming channels. Consequently, there is much competition among these channels to grab the attention of the masses. But Netflix has mastered the art of attracting subscribers with its email marketing strategies.
When you log in to Netflix, you are showered with viewing suggestions tailored to your interests and viewing history. Netflix has extended this hyper-personalization strategy to its email campaigns as well.
Netflix collects and analyzes all the data of their subscribers, like which shows they are watching, viewing time, language and genre they prefer, the origin country of the show and more. They use this data to send customized suggestions with sections like "top picks for you" followed by a clear CTA. Customers are more likely to start watching at least one of the suggestions when they find them customized to their interests. It also uses the same red and black theme to maintain consistency in branding.
2. Uber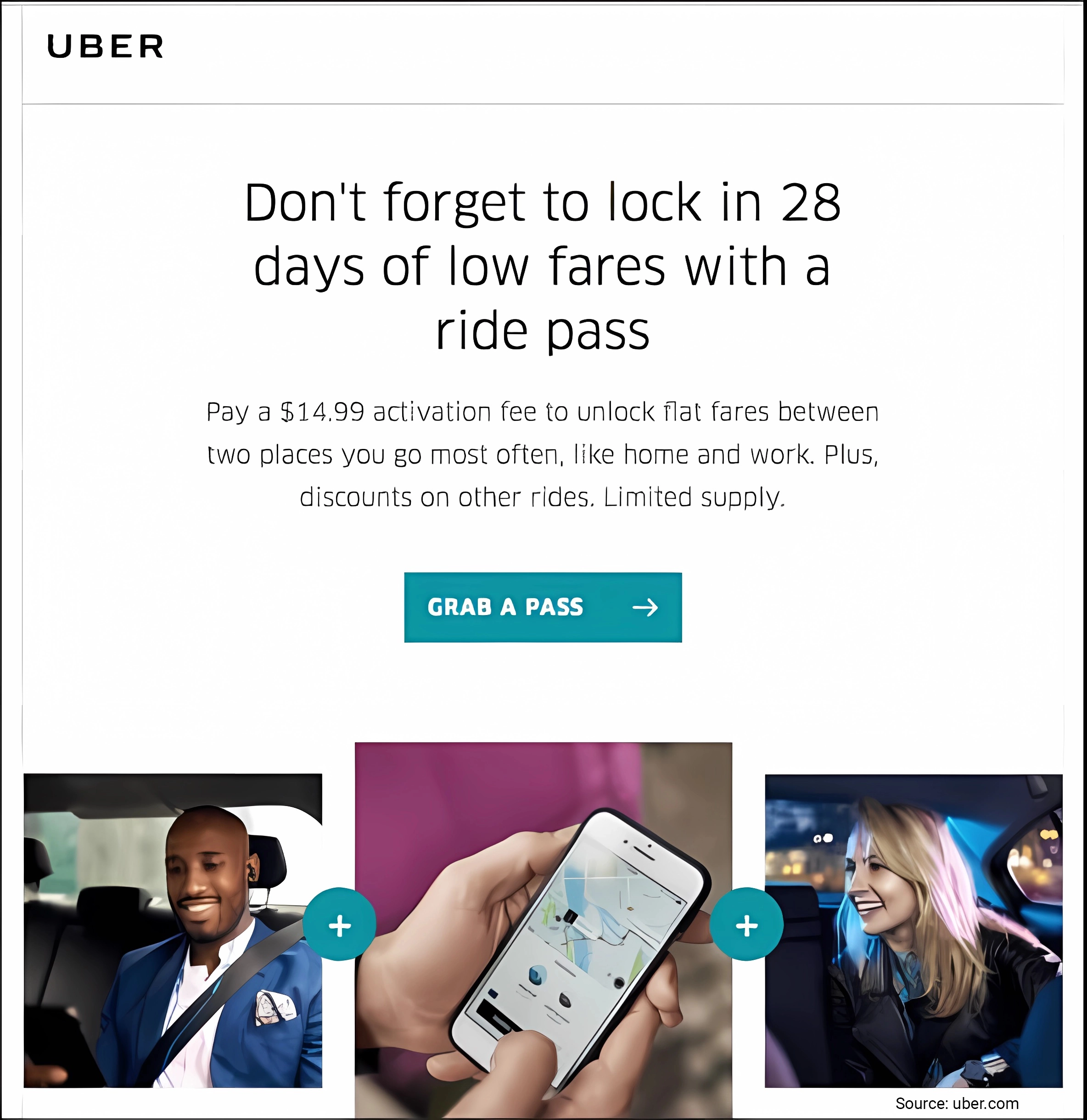 One significant quality of the best email marketing campaigns has to be clarity and simplicity. Stick to the point and convey what the prospect wants to know, Uber does that effectively.
Their emails are simplistic and classy in tone, similar to their app, which is easy to use and straightforward. Their emails usually focus on promotions and offers, which are always concise, followed by a clear CTA, as they understand that most of their customers are always on the go. And if someone wants to know more, they can click the provided link.
Moreover, they design and send mobile-friendly emails in their custom black-and-white palettes and fonts, as most users use Uber on their phones.
3. Adidas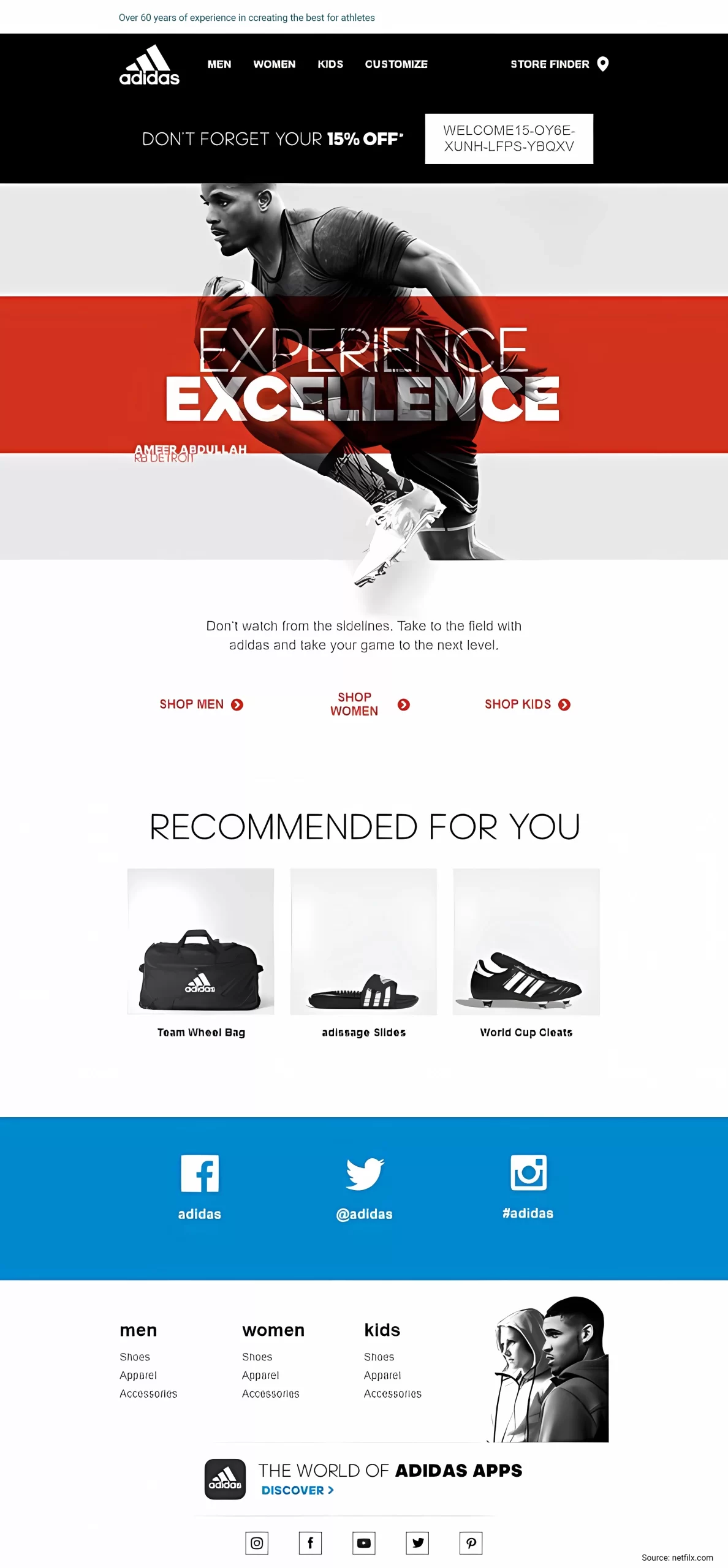 Adidas is an iconic athletic apparel and footwear brand with immense growth in recent years thanks to its e-commerce sales. Their excellent email campaigns have a huge role in increasing their sales and building customer relationships.
One vital strategy that Adidas uses in its campaigns is personalization. They reach out to their massive customer base with products and offers that target their specific interest and taste through their emails. Adidas gives immense significance to their customer data, including location, purchase history, product browsing history and more, to send hyper-personalized emails.
Most of their email copies are minimal in text and focus on enticing their customers through product images and exclusive offers.
4. Airbnb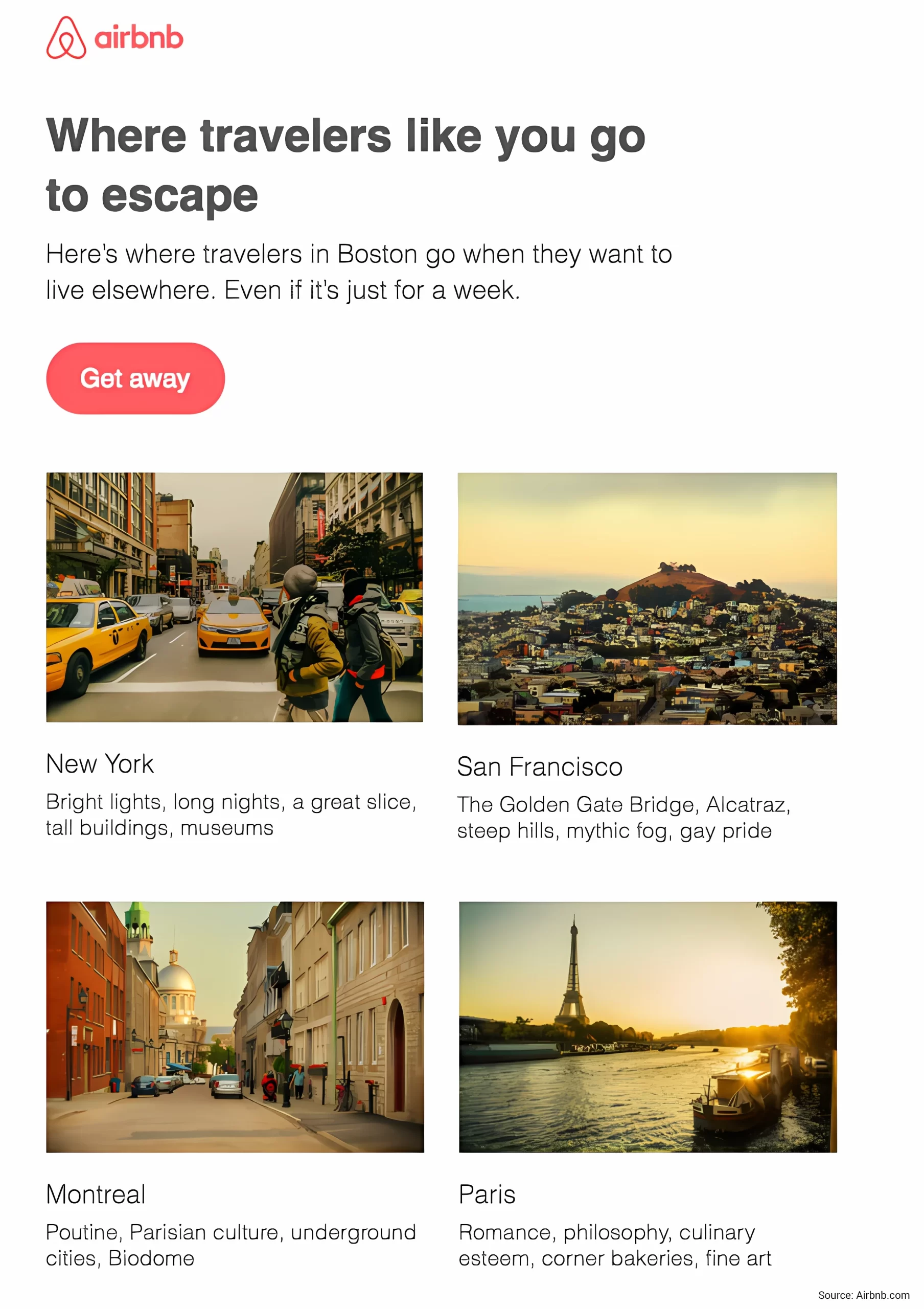 Using some of the best email marketing campaigns, Airbnb has become the brand it is today in the online home-sharing space. They use email marketing for practically everything, from customer retention and brand promotion to building a communication channel between the guests and the hosts.
Typically all of their emails focus on one thing- encourage their customer to plan their next visit and book a stay with Airbnb. As such, most emails have beautiful descriptions of exotic destinations with inviting pictures and a reason to explore those places. They personalize these emails using visitor data, targeting their interests with exclusive suggestions.
Minimalist design, to-the-point texts and clear and catchy CTAs are the key features of their emails.
5. Starbucks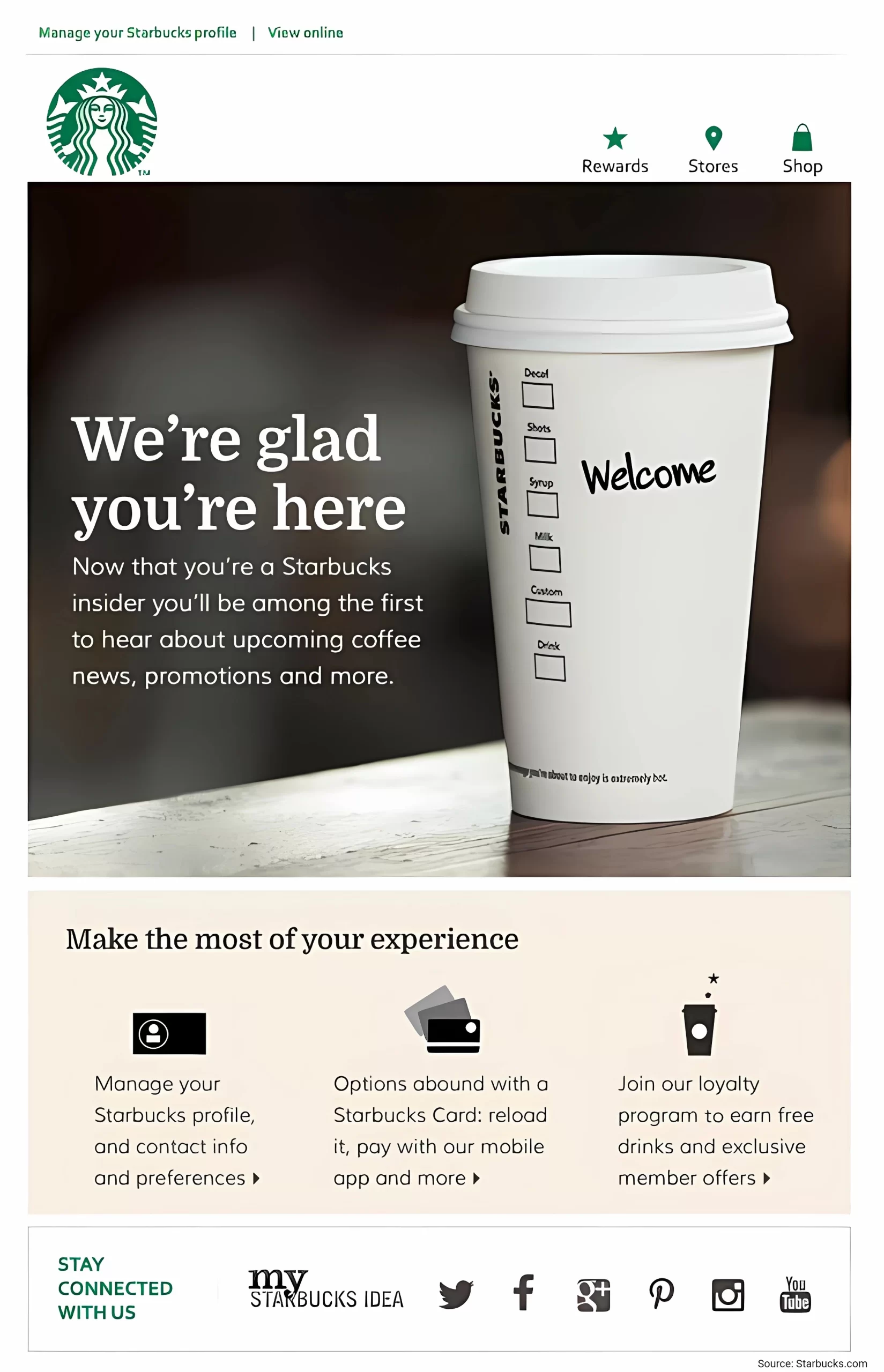 Monotony is a huge no when it comes to email marketing. Starbucks plays around this fact and uses interesting graphics and animations to promote its offers. Moreover, their reward programs are integral to their email campaigns and exude exclusivity in all aspects.
This makes the recipient feel special and encourages them to accept the offer. Moreover, building brand loyalty and fostering better customer relationships is a smart strategy.
Each email is unique and uses strong images and catchy texts to entice their customers.
6. Tuft& Needle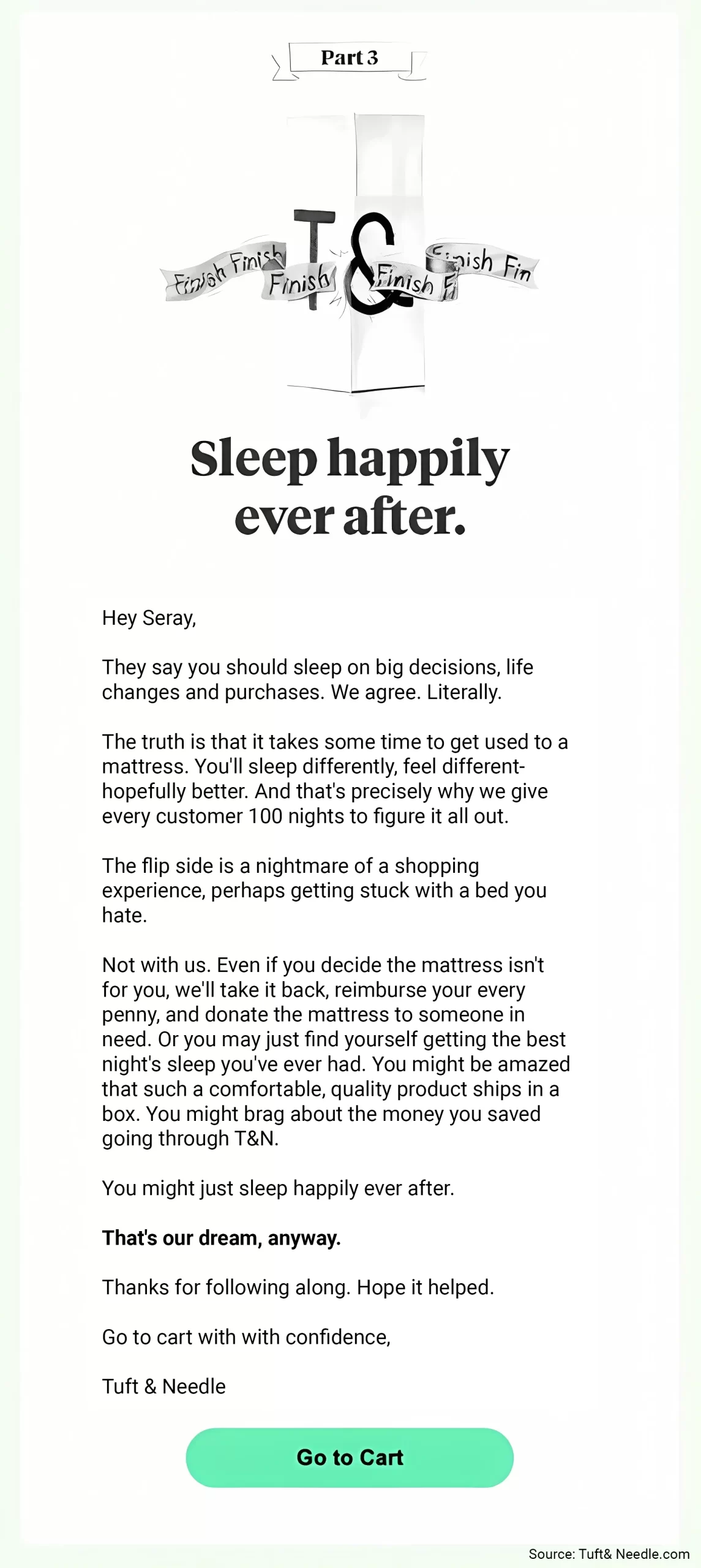 Tuft & Needle is one of the brands that has successfully designed unique and creative email campaigns. While they use their creativity to send personalized offers through emails, cart abandonment has been one of the key focuses of their campaigns. They use engaging storytelling, fun illustrations, and transparency to entice their customers to make the purchase. All of this without being too salesy, as their CTAs are always subtle but immensely effective.
Using quirky images and playful tonality, they lure the shopper back to the website and complete the purchase.
7. Patagonia

Patagonia has always done an excellent job with its welcome emails. From the onset, Patagonia sets its subscribers' expectations from the emails.
As the brand is known for its environmental activism, most of its emails focus on promoting its mission, sending product highlights, making sale announcements, promoting store events, and more.
Moreover, a simple "welcome to the family" sets the tone for the customer journey as a prized member of the brand community. They also use personalization to drive traffic and also rely on user-generated content, like a customer using their product in real settings, to build strong relationships.
8. Headspace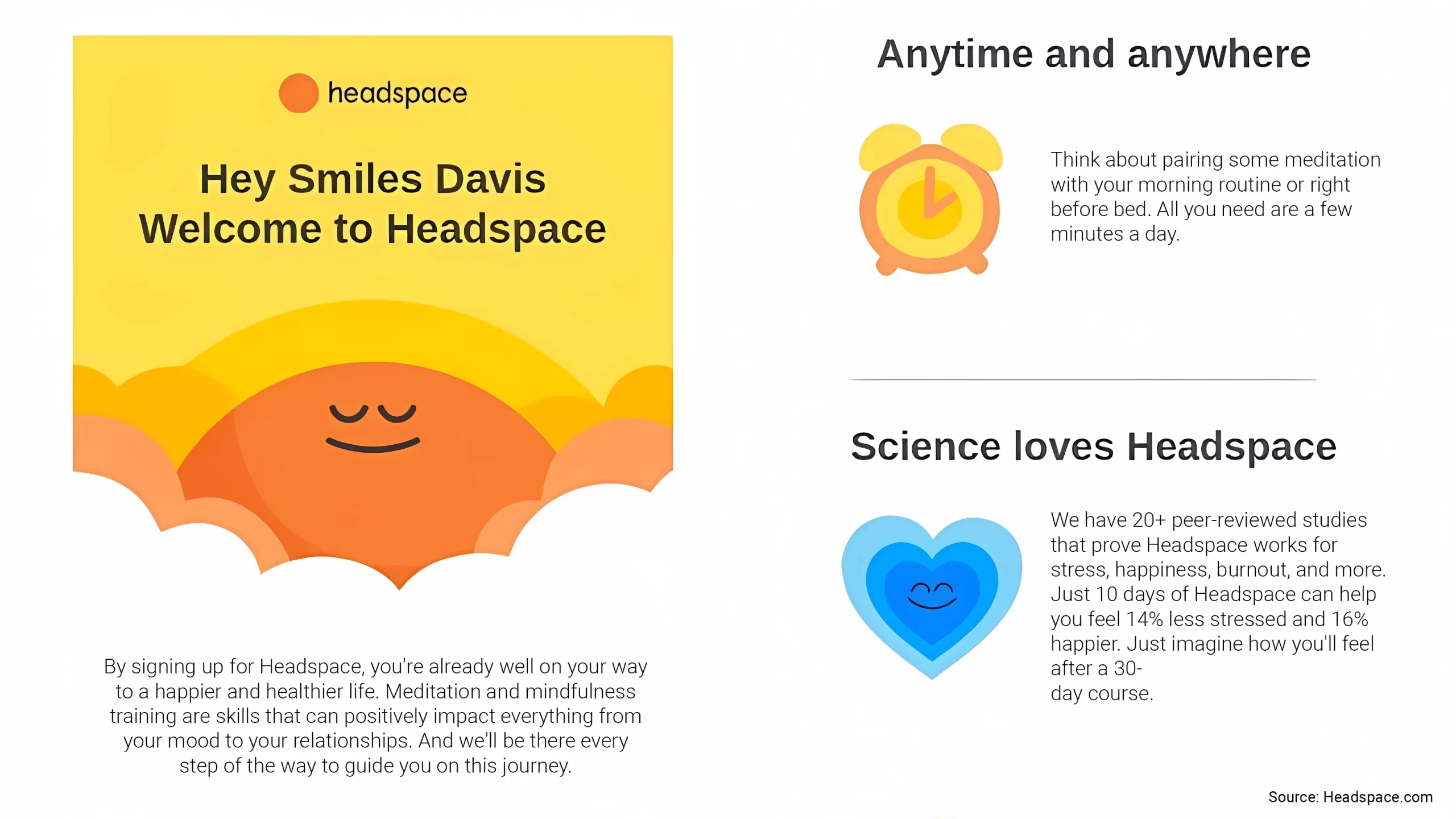 Welcome emails and newsletters from Headspace are some of the best email marketing campaigns we have seen recently. Headspace is a meditation app that guides people through their meditation journey to decrease anxiety and improve their mental health for a better lifestyle. Their mission reflects in their emails, as they use soothing graphics and friendly language to explain their goals and offerings.
It is incredibly impactful in their welcome emails as someone seeking mental wellness looks for assurance and guidance. Headspace makes the perfect first impression by telling them how it can help them to lead a happier life and encourages them to start their journey.
9. Birchbox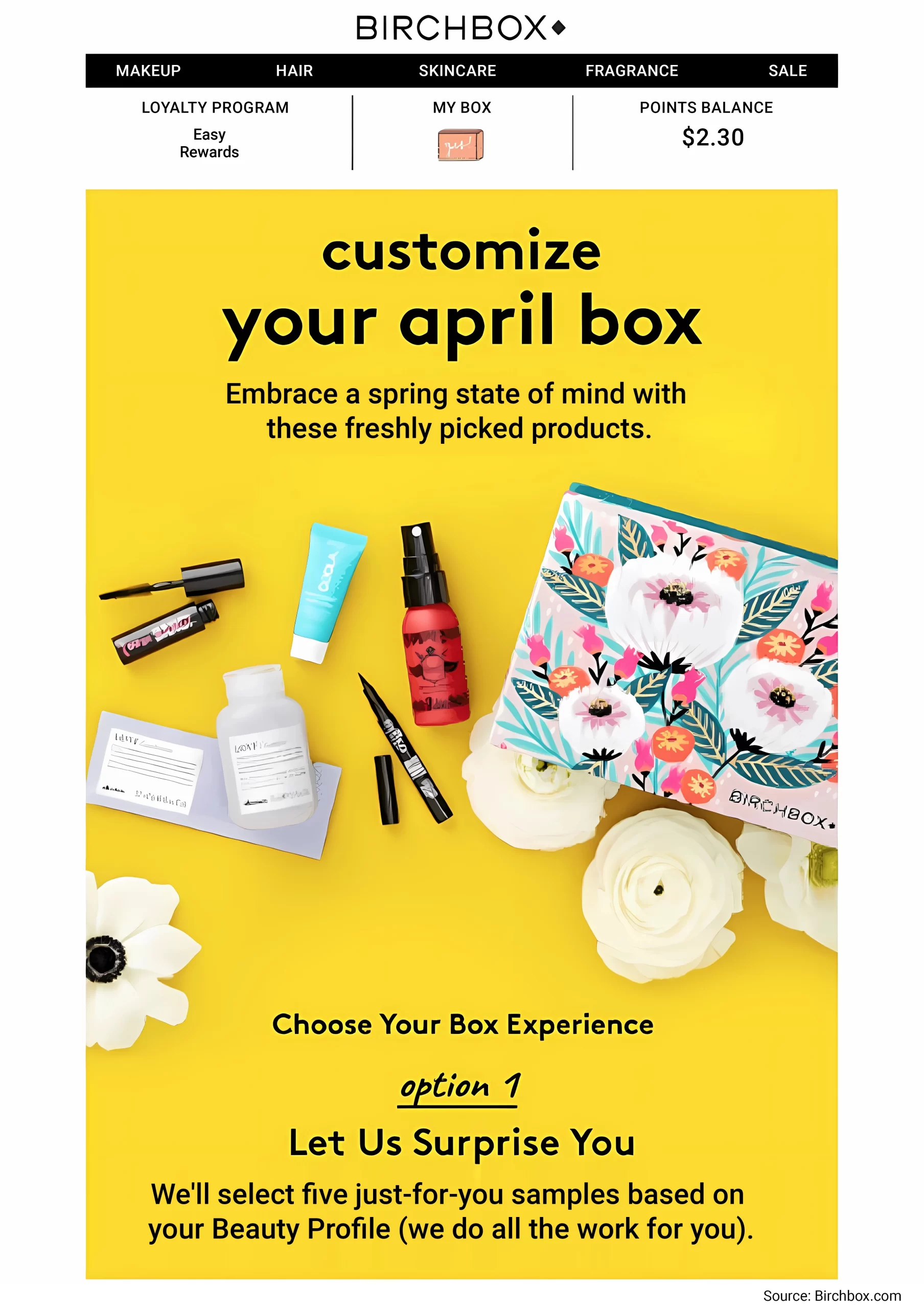 Birchbox is a beauty product seller that sends customized product sample boxes to their subscribers every month. While it offers excellent service to all makeup and skincare enthusiasts, its quirky email campaigns stand out the most and are its selling point.
How to personalize their emails and make every subscriber feel special is something we should learn from Birchbox.  In the given example, Birchbox offers their shopper to customize their box for April with their favorite products suggested by Birchbox according to their beauty needs.
The email thoughtfully uses bright color palettes to reflect the spring season and gives subscribers valuable intel about their loyalty program status, balance points, etc.
10. PayPal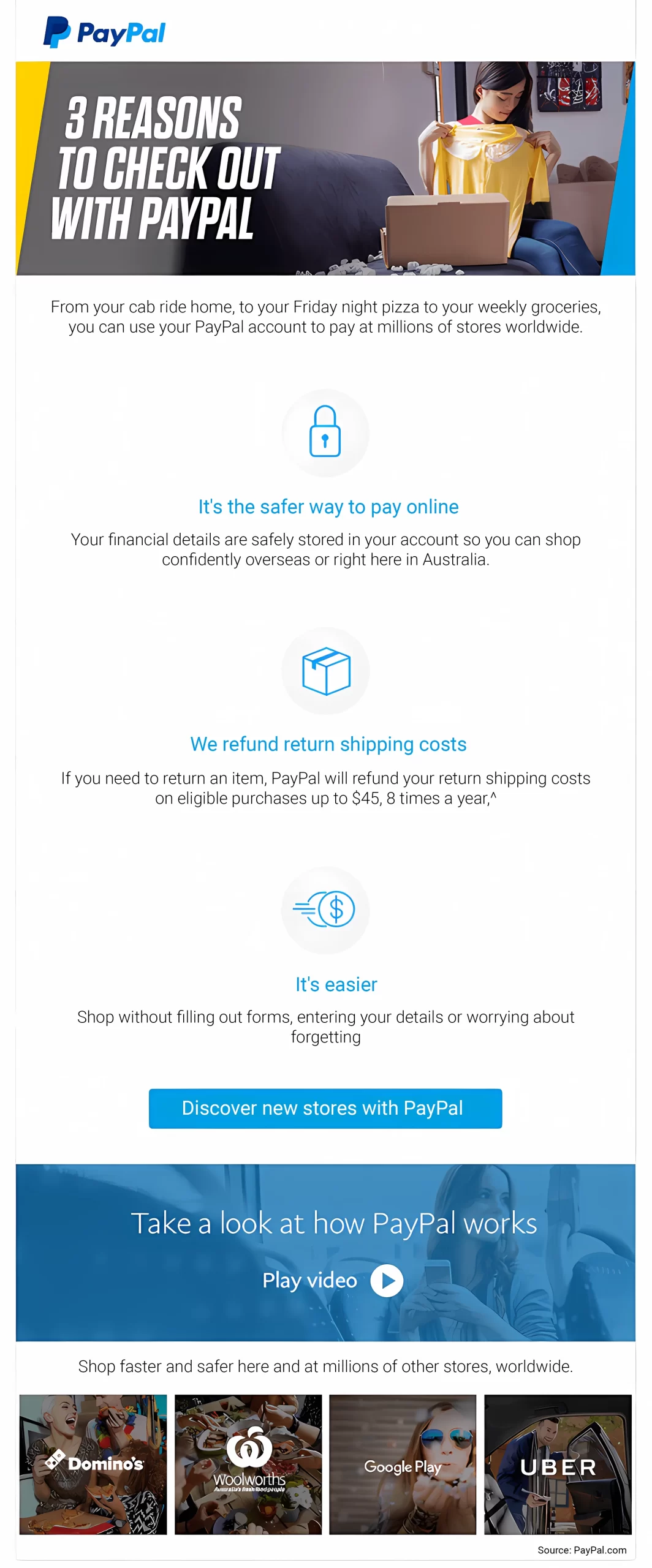 Emails are a great way to explain the benefits and services you offer. PayPal understands this and creatively uses this approach to help its subscribers take action.
This smart email campaign example encourages subscribers to purchase with PayPal. It urges them to explore the checkout with the PayPal feature by explaining its benefits in an easy format, followed by a list of brands where they can use it to make payments. There, of course, is an interesting CTA to explore more such online stores.
11. Mint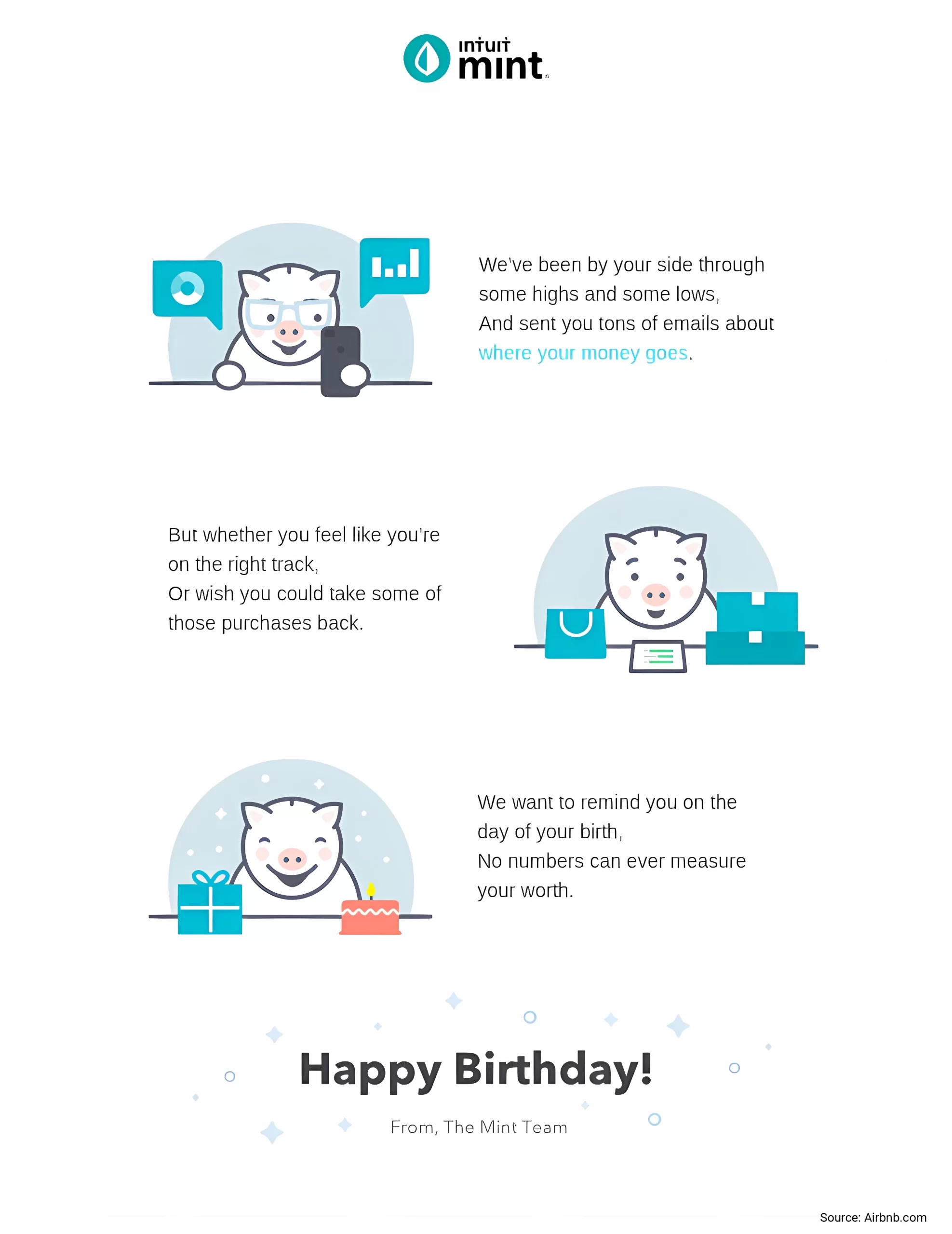 This personal finance app helps users with budgeting, money management, bills and payment tracking and more. However, apart from explaining its benefits and offers, Mint uses its email campaigns for customer retention by sending personalized birthday and anniversary messages.
Their warm and friendly messages reflect how much they care about their customers.
It is an effortless way to boost brand affinity and remind your customers of their importance. Moreover, when they need it, customers will always choose you as their priority.
12. BuzzFeed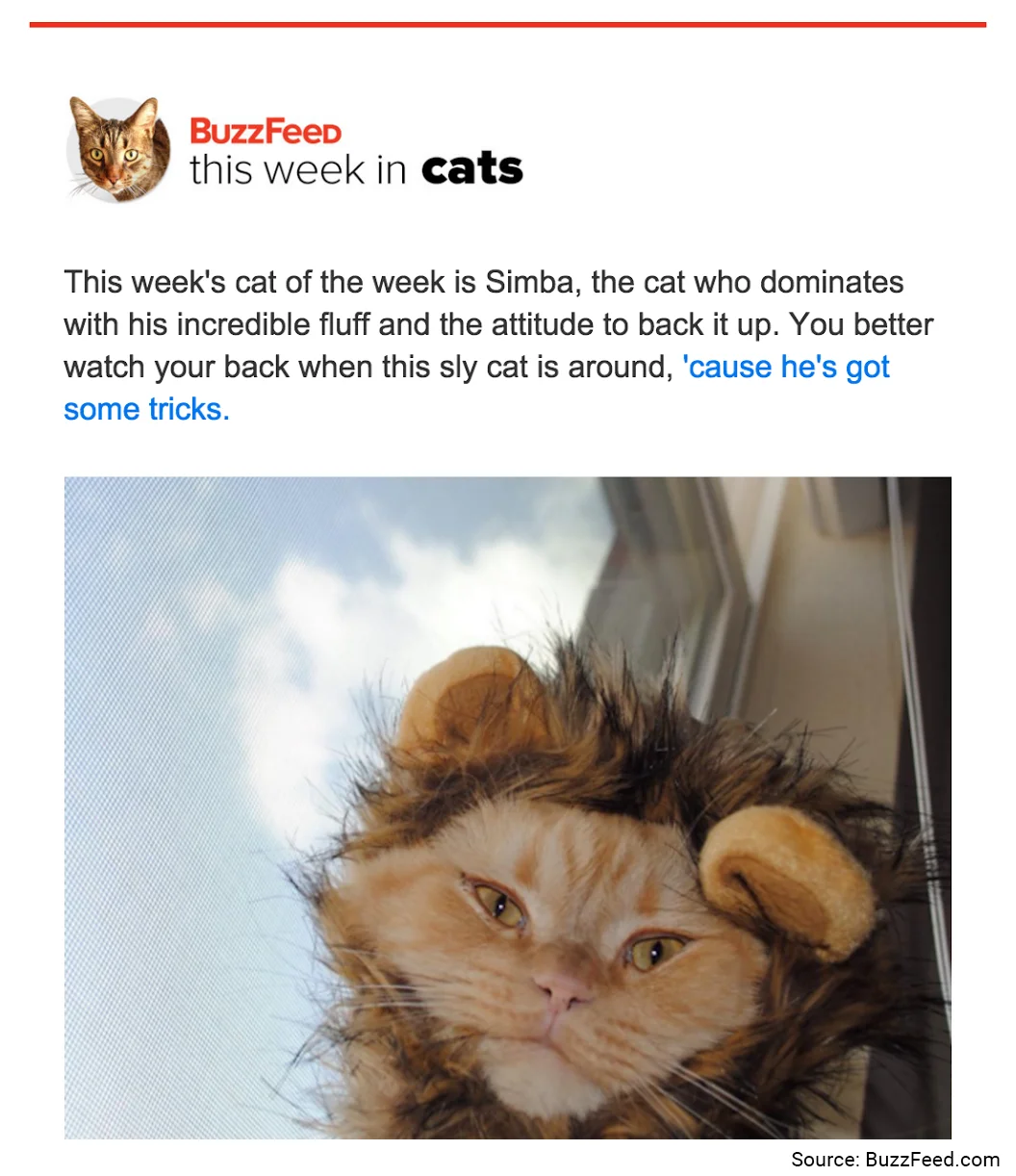 BuzzFeed is a media website that has made phenomenal use of email newsletters to substantiate its growth. It has curated several newsletters related to vast topics such as entertainment, animals, politics, health and lifestyle, and more. These newsletters are a big selling point for BuzzFeed and bring in the highest traffic for their website.
The subject line of the emails itself is immensely catchy and reflects the killer content you are in for. One fantastic example of their newsletter is "This Week in Cats," which delivers the cutest cat stories every Friday to the subscribers.
13. Venmo

Customer retention is one of the significant goals you can achieve with the best email marketing campaigns. Venmo effectively uses email marketing to grab the attention of lost users by sharing helpful information about the app.
They showcase the recent changes in the app to attract users and lure them into using Venmo once again. It also discusses the added benefits the users might have missed since they were away for a long time. It is an excellent way to let the users know that you remember them and want to help them with your latest services and offerings. The subtle CTA and intriguing graphics also make this copy a perfect reminder email.
14. Artifact Uprising

Using the current social backdrops in your emails is an effective way to grab your recipient's attention. It also shows that you are aware of and concerned about what's happening.
Artifact Uprising is a custom photo print company that launched an email campaign amid the uproar of Black Lives Matter. It encouraged users to do their bit to enhance black visibility by investing in a specially curated collection of photos.
Although they could use this as a solid strategy to drive more traffic, they added substance to their campaign. They took a firm stand for the black community by donating 100% of the campaign profits to organizations working toward the movement's success.
15. Dropbox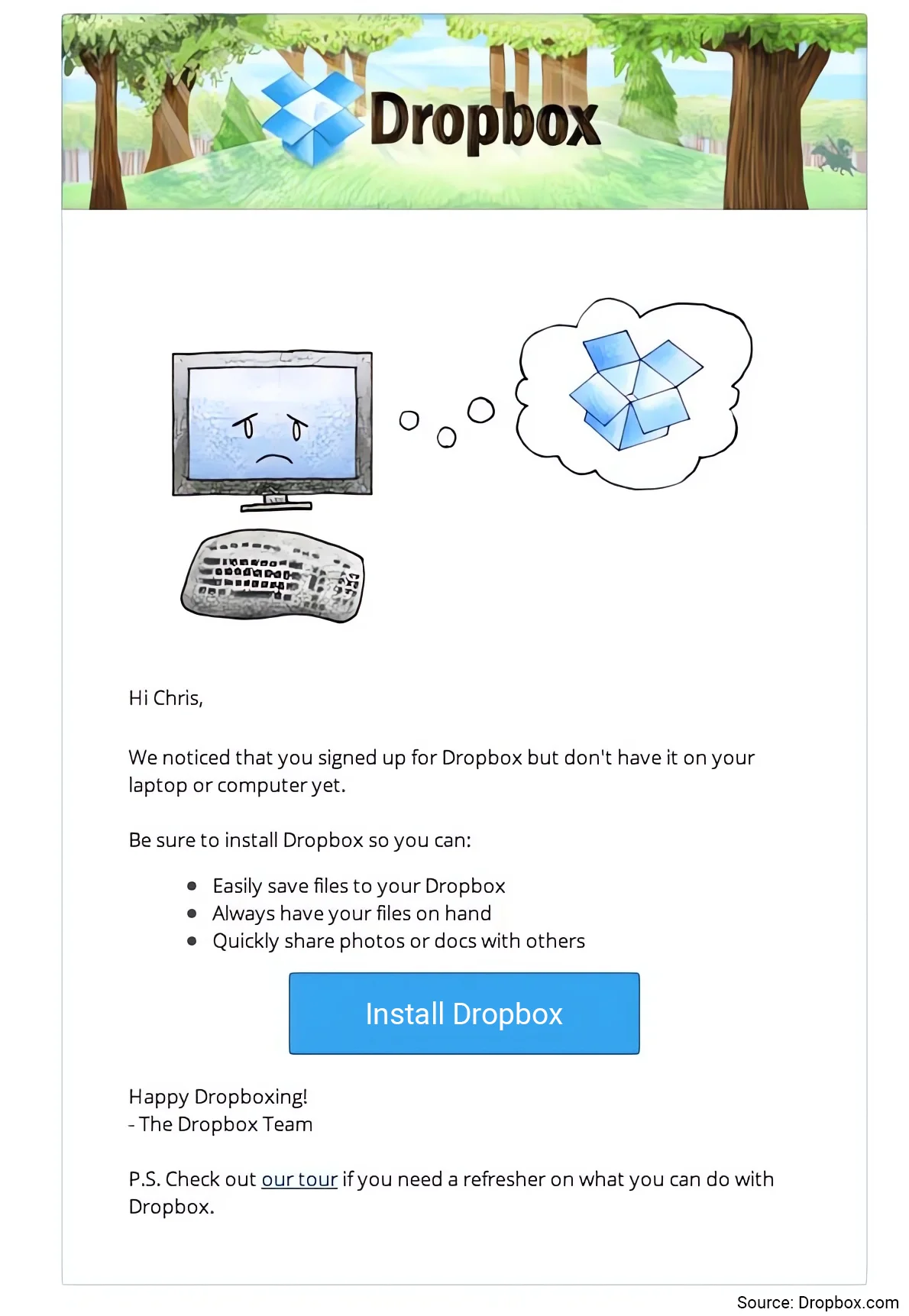 Another fantastic example of email campaigns to attract lost customers is this "come back to us" campaign from Dropbox.
They use clever storytelling to convey to the users that they are lonely without them. It is immediately followed by a concise yet impactful description of their benefits. It is not very pushy but comes across as a small reminder to start using Dropbox to avail of the benefits.
Wrapping up
These are some of the best email marketing campaigns that depict how you can use the powerful tool of email marketing to up your sales and drive traffic. You will notice here that there is no one size fits all approach in the emails; each has some distinct aspects that make them stand out.
Some have great designs and catchy illustrations, whereas crisp and to-the-point texts are the USP of others. While you have to decide what works best for you, you can seek inspiration from these great campaign examples and improve your campaign strategies effectively.