The majority of the marketers consider email marketing as the lifeline of the marketing campaign. As per email statistics in the last year alone, over 293.6 billion emails were sent. It is also expected to reach 347.3 billion by the year 2022.
While email marketing has penetrated deep into the process of every organization, the amalgamation of email marketing and automation is further going to make a more substantial impact in the industry.
Many companies are looking to streamline the marketing approach and generate excellent business results. This is motivating them to switch to email marketing automation. The unique combination would revamp the process and approach of email marketing, and help businesses to earn good revenue and sales.
As per Jordie van Rijn, a MarTech enthusiast, and email marketing consultant:
"Email marketing and marketing automation systems will continue to grow towards each other. Meaning that the lines between email and automation are starting to fade as functionalities start to overlap. In other words, they are stealing each other's good ideas."
If you are still not convinced, find the below statistical number:
In a survey, almost 83% of the companies stated they use email marketing automation for sending relevant messages. ~ The Leverage Way
You might think, what's the big deal?
Well, you must know sending relevant messages to relevant customers is the key to success for every business. It helps to achieve the desired sales and revenue. As, a marketer, you would surely like to meet your targeted numbers.
This is where email marketing automation comes into play and helps you achieve the same.
Below you can find some of the ways how email marketing automation is benefiting businesses:
1. Helping To Nurture The Leads For Making Them Sales-Ready:
Most of the generated leads are not sales-ready. These leads would be interested to know the quotation, features about the product or service, etc. so that in the coming months, they can finalize the deal.
In such a scenario, a marketer has to nurture these leads and make them sales-ready, with relevant emails. Emails have a huge role, as through it a marketer can send some powerful and quality pieces of content to impress the prospects. A weekly newsletter, helpful educational content, etc. about your business can help build trust in your brand.
2. Aligning Your Strategy with Customer Buying Pattern:
Every customer has a buying pattern such as they would purchase a product in a specific season, festival, etc. So when you align your marketing strategy with this pattern, it becomes easier to make the sales. This is made easier with email marketing automation, and it automatically shoots out targeted emails during that time period.
As, you can see in the below graph, almost 68.5% of the respondents stated that marketing automation helps in improved targeting of messages.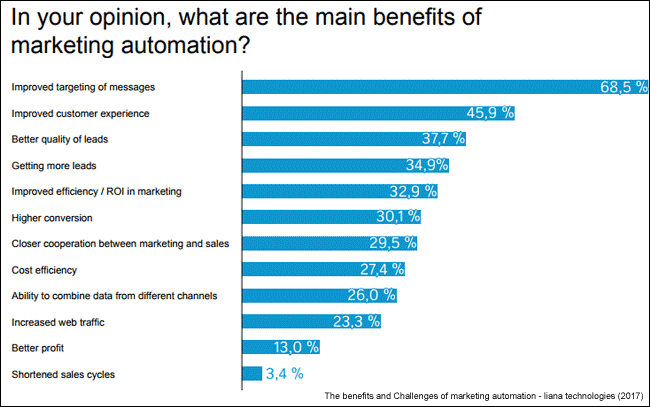 Source: emailmonday
In this email, you can promote the products that were purchased by these customers at the same time, in the previous year.
3. Retaining Existing Customers:
The majority of companies are maintaining good relationships with their existing customers. They have to win the confidence of the customer to increase their business revenue. While attracting new customers should be your strategy, the existing customers are equally important.
As per a report, loyal customers are 5 times more likely to purchase, 7 times more likely to try a new thing by your brand, and 4 times more likely to refer.
In such a scenario, you should pay undivided attention to your existing customer and provide exceptional service. This is made easy with email marketing automation, where these customers receive personalized emails at planned intervals. These emails include services or product that aligns with their interest, preferences.
The abandoned cart emails are sent to the prospects who at the last moment, dropped out being your customers!!!!
It can be frustrating for any marketer when the customer backs off in the nick of time.
To resolve this challenge, email marketing automation is now being used to convert these prospects into customers.
For example, automated emails are sent to every customer who abandoned the purchase at the last moment.
You can craft the email as below: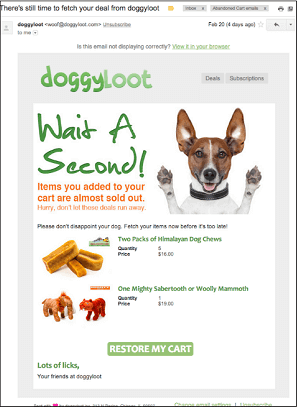 Don't you think it will motivate the customer to go back and complete the purchase process?
So, what are the drip-feed email?
Drip feed emails are mostly sent to the subscriber who signed up for a free version of any article, report, etc. As a marketer, you would want to take them to the next step of the marketing funnel. These emails are developed to motivate such subscribers so that they go for the paid version.
This email practice, along with marketing automation, helps in the right approach, so that businesses can earn the right revenue.
The below example is of a drip campaign, through which the brand is motivating the prospect to become a customer: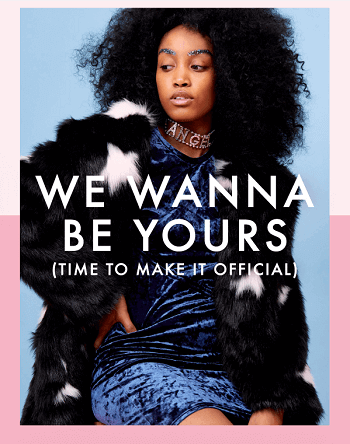 As you can see, the above automated email is sent to the user as per their activity on the website or other sources. These emails are already designed before, for immediately sending to the prospect, based on their actions, events at that time.
The automated drip email marketing is all about conveying the right information to the right prospect at the right time.  This process can surely help any business to increase revenue.
As per Zapier, the company based in California:
"People who read your drip emails are far more likely to click the links in them, with a 119% increase in click rate from drip emails."
119% is a good number, as, without the right customer engagement, you cannot expect to increase revenue!!!!!
Conclusion:
The popularity of email marketing automation is bound to increase in the coming years, as businesses look to amplify their revenue. The above blog chalks out some of the crucial ways, in which email marketing automation can be used in organizations. It would not only help businesses to streamline their marketing approach but also help to increase revenue.